Lore:Folgunthur
The UESPWiki – Your source for The Elder Scrolls since 1995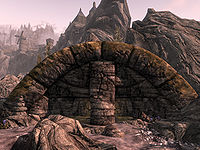 Folgunthur is an ancient Nordic barrow found in the northern coast of Hjaalmarch, in the province of Skyrim. Near the banks of the Karth River and at the base of the Great Arch that holds Solitude, this ancient tomb is known for containing the remains of Mikrul Gauldurson, the youngest son of the auspicious but forgotten First Era mage, Gauldur.[1]
History
[
edit
]
The barrow of Folgunthur had been used as far back as the early-First Era, during the reign of High King Harald.[2] After the death of their father, the Gauldurson brothers, Mikrul, Jyrik and Sigdis Gauldurson took their father's prized amulet and split it amongst themselves to attain power by conquest and destruction. When the Archmage, Geirmund became involved, the brothers split across Skyrim to escape the wizard. Mikrul, the youngest traveled to Folgunthur and fought back for three days and nights, but Mikrul had ultimately lost and was interred into Folgunthur, sealed away by an ivory dragon claw. The brothers were defeated one by one, Gauldur's body was kept away in Reachwater Rock and his very name was wiped from the annals of history.[1] But legends of the Gauldurson brothers still persisted countless years later.[2]
Sometime in the second century of the Fourth Era, the Dunmeri historian, Daynas Valen had spent many years researching the story of Gauldur and seeking his amulet, and by 4E 201, it brought him to Skyrim. He hired a group of mercenaries to delve into Folgunthur,[3] but it ended in tragedy as everyone died by the Draugr that infested it. However, another adventurer traversed Folgunthur and encountered the reanimated Mikrul wielding one of the amulet fragments and his weapon, the Gauldur Blackblade. The adventurer slew the deadman and claimed the fragment, continuing their quest to rebuild the amulet.[4]
Gallery
[
edit
]
References
[
edit
]