User talk:Wolfborn
The UESPWiki – Your source for The Elder Scrolls since 1995
Hello Wolfborn! Welcome to UESPWiki! It's always good to have new members. If you would like to help improve any of our pages, you may want to take a look at the following links:
If you would like to spice up your userpage, click here for a list of userboxes you can use, including a guide to making your own.
When you're editing, it's always a good idea to leave edit summaries to explain the changes you have made to a particular page, and remember to sign your talk page posts with four tildes ~~~~. Also, the "show preview" button is a great way to view the changes you've made so far without actually saving the page (our patrollers really appreciate it!).
Please consider supporting the UESP elsewhere on the web:
Feel free to practice editing in the
sandbox
. If you would like to discuss the games or lore, consider checking out our
blog
, our
Discord
, or the
forums
. If you need any help, don't hesitate to contact one of our
mentors
. Lastly, thanks once again for joining the UESPWiki, have fun! —
likelolwhat
talk lulzy to me
06:00, 21 January 2018 (UTC)
Morrowind
[
edit
]
Edits like this are very nice to see. Great job! I hope to see you more around the Morrowind namespace. —Dillonn241 (talk) 07:32, 28 October 2018 (UTC)
Thanks! --Wolfborn (talk) 19:47, 28 October 2018 (UTC)
Thanks!
[
edit
]
Technically speaking, your change to the userboxes page wasn't what I'd intended, but what I'd intended was just wrong. ;) I'd been looking up at the Deities section, where the third column is a description, and hadn't noticed that for the Platforms section, the third column was the category. What you changed it to works, so let's just pretend that that's what I intended. – Robin Hood (talk) 05:25, 18 December 2020 (UTC)
No problem! :) I wasn't sure exactly what you were trying to do with your edit, but it just looked totally wrong the way it was. I didn't even notice that the third column in some sections is a description rather than a category until you pointed it out. Glad I could help. — Wolfborn

↝

(Howl) 06:22, 18 December 2020 (UTC)
You saved the fishies!
[
edit
]
You actually did it, the absolute madlad! You rescued the poor fish from the perils of double redirects! You shall always be remembered as the Savior of Fish!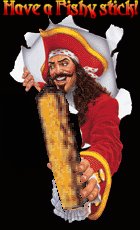 Vinovin15 (talk) 11:28, 2 March 2021 (UTC)
My first Fishy Stick! Thank you very much, I'm honoured! — Wolfborn

↝

(Howl) 11:32, 2 March 2021 (UTC)
Patrollership
[
edit
]
Hey there Wolfborn! Thanks for all your great edits, you're really on top of a lot of important things when a lot of us aren't! Wicked fast too! Would you be interested in a patroller nomination? It'll allow you to go through the patrol log and get things done even more efficiently, as well as autopatrol your own edits. If you feel that's too much, you can look into a Userpatroller role first instead. It's up to you tho. Take care and let me know if you're interested! The Rim of the Sky (talk) 00:48, 6 April 2021 (UTC)
Wow! I'm both honoured and flattered to be considered for a patroller nomination. However, my RL commitments are changing at the moment, and I likely won't have as much time to devote to wiki-related activities going forward as I have over the past several months. I would hate to be successfully nominated and then find I don't have the time to properly carry out the duties and responsibilities of my new role. Therefore, after thinking it over, and as much I would love to accept, I have decided to decline the nomination at this time. I will continue to contribute to UESP in whatever capacity I am able to, and should I find myself in a position where I feel I would be able to accept a nomination for patroller in the future, I will certainly let you know. Thanks for considering me! — Wolfborn

(Howl)

01:27, 7 April 2021 (UTC)
Oh, that's completely understandable. The patroller role isn't very demanding at all, so you don't need to worry about it taking up too much of your time. If you ever do change your mind, by all means feel free to let me or another staff member know, we'd love to have you on the team! Thank you for your time :) The Rim of the Sky (talk) 01:25, 8 April 2021 (UTC)