UESPWiki:Featured Images
The UESPWiki – Your source for The Elder Scrolls since 1995

Featured images follow the same nomination process as for Featured Articles, but as they appear in a different section of the main page, a separate series of votes is held to decide which images meet the required standard.
For an image to be eligible for Featured status, it must be used in a UESP article. This is to prevent specially-taken beauty shots from stealing the limelight.
A gallery of older Featured Images can be found here. Similarly, the archives of previous nominations can be found here. Note that not all failed nominations are included.
Featured Image Process
[
edit
]
Nomination
[
edit
]
Any registered member can nominate any image at any time. Nominated images should be of high quality and meet the site's image standards.
To nominate an image, list it on the bottom of this page with a three-tier heading, (===Example===), and briefly explain why you think the image should be given featured status.
Example:
After an image has been nominated, any registered member can vote to support or oppose each nomination. Each member can only vote once for a given image, but a member may change his/her vote by striking out the original vote and replacing it with the revised vote.
To vote on an image, state whether you support or oppose the image for featured image status. A vote should be in bold, and all votes must be signed. For example:
* '''Support''': <Comment> --~~~~ or
* '''Oppose''': <Comment> --~~~~
Commenting with your vote is optional, but if you oppose a nomination, please state how the image must be improved to get your support for featured status.
If you are not yet ready to vote but would still like to add your thoughts, you may use:
* '''Comment''': <Comment> --~~~~ or
* '''Question''': <Question> --~~~~
And fill in your concerns or questions.
Decisions
[
edit
]
UESP Administrators will periodically make decisions on image nominations. Decisions will only be made if:
The image has been nominated for more than seven days.
Five or more votes have been placed.
Nominations not meeting these criteria will be left open until a decision can be reached.
Images whose nominations pass will receive featured image status on the front page for two weeks (which may be extended up to one month if there is a shortage of images), and receive a small bronze star (

) on the top right corner. If an image achieves featured status before the present featured image's time expires, it must wait its turn.
Current Featured Image
[
edit
]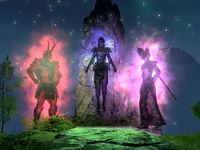 Nominations and Votes

[

edit

]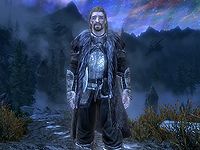 I can't say I'm much of a fan of the subject, but I've always been a fan of this image. I thought this was nominated before at some point, but it doesn't seem that way. Since I'm in town for a second, I'll throw this into the mix before I head out! The background is really pretty which helps to make it a good thumbnail. However, once you look at it at full size, the expression on Ulfric's face is what sells this for me. I think it captures the thoughts and feelings of the character at this moment in time perfectly. You can also see a little surprise in the background once you look at the full size image too.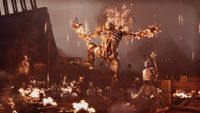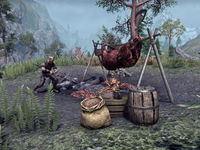 A great action shot showing off both the quest objective and the landscape of Western Skyrim. The framing and colouring on this image is excellent.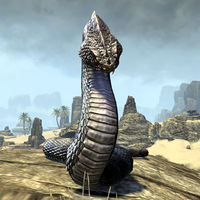 A really excellent shot of this enemy. Hard to capture ESO enemies at this level of detail.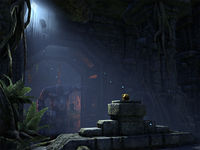 This is a beautiful shot. The golden skull is the focus here, contrasting against the gray stone and illuminated by the stunning ray of light filtering from the sky above. The image is high res; you can see all the details in the xanmeer's carvings. The flesh guardian in the background gives the viewer a sense of danger; the golden object on the pedestal is either being guarded by that thing, or the creature happens to be blocking the way of anyone who seeks the skull. Either way, the flesh colossus gives the viewer the sense that this place is dangerous, and whoever is going to retrieve that wonderfully illuminated artifact is going to have one heck of an adventure... which perfectly illustrates what Murkmire is about: a swashbuckling adventure!
Bottom line is, this image is beautiful and tells a story.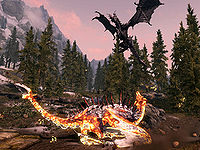 I saw this one on our social media and thought it looked very cool. The colours are great, it really captures the resurrection of a dragon in a stunning way.
Support: Fantastic shot in every way, loving the angles and the progress through the dragon resurrection animation this was taken at, don't often get to see it since it happens so fast. The Rim of the Sky (talk) 22:48, 28 July 2020 (UTC)