UESPWiki:Featured Images
The UESPWiki – Your source for The Elder Scrolls since 1995

Featured images follow the same nomination process as for Featured Articles, but as they appear in a different section of the main page, a separate series of votes is held to decide which images meet the required standard.
For an image to be eligible for Featured status, it must be used in a UESP article. This is to prevent specially-taken beauty shots from stealing the limelight.
A gallery of older Featured Images can be found here. Similarly, the archives of previous nominations can be found here. Note that not all failed nominations are included.
Featured Image Process
[
edit
]
Nomination
[
edit
]
Any registered member can nominate any image at any time. Nominated images should be of high quality and meet the site's image standards.
To nominate an image, list it on the bottom of this page with a three-tier heading, (===Example===), and briefly explain why you think the image should be given featured status.
Example:
After an image has been nominated, any registered member can vote to support or oppose each nomination. Each member can only vote once for a given image, but a member may change his/her vote by striking out the original vote and replacing it with the revised vote.
To vote on an image, state whether you support or oppose the image for featured image status. A vote should be in bold, and all votes must be signed. For example:
* '''Support''': <Comment> --~~~~ or
* '''Oppose''': <Comment> --~~~~
Commenting with your vote is optional, but if you oppose a nomination, please state how the image must be improved to get your support for featured status.
If you are not yet ready to vote but would still like to add your thoughts, you may use:
* '''Comment''': <Comment> --~~~~ or
* '''Question''': <Question> --~~~~
And fill in your concerns or questions.
Decisions
[
edit
]
UESP Administrators will periodically make decisions on image nominations. Decisions will only be made if:
The image has been nominated for more than seven days.
Five or more votes have been placed.
Nominations not meeting these criteria will be left open until a decision can be reached.
Images whose nominations pass will receive featured image status on the front page for two weeks (which may be extended up to one month if there is a shortage of images), and receive a small bronze star (

) on the top right corner. If an image achieves featured status before the present featured image's time expires, it must wait its turn.
Current Featured Image
[
edit
]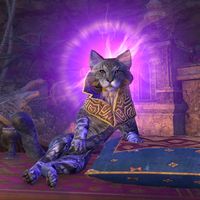 Nominations and Votes

[

edit

]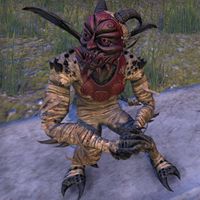 Look at this Lad. He takes up most of the screen real estate, you can see the little details in his little linen wrappings, and the way his little hands are folded... you can tell he's scheming.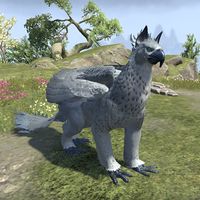 Look at this lady. Ears perked up, head cocked slightly to the side. She's judging you.
Support: As nominator. -MolagBallet (talk) 00:52, 10 August 2020 (UTC)
Support: OK I will make an exception because he she looks very polite The Rim of the Sky (talk) 01:10, 10 August 2020 (UTC)
Oppose: Sorry, but I'm just not a fan. The subject of the image is so low-res and jagged looking that when it's blown up to be looked at it just doesn't look appealing to me. And, the way the lighting is interacting with it just isn't working for me with how unevenly lit up different parts like the wings and the shoulders just forward of them are. All in all, it's just a barely adequate profile shot for the page that's no different from the thousands of other creature images kicking about on the UESP, so it's hard to imagine this as Featured Image material. -Damon talk ♥ edits 15:58, 10 August 2020 (UTC)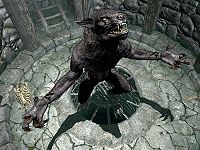 This is a nice cinematic shot. It's pretty high res, the subject takes up plenty of screen real estate and he casts a lovely shadow that shows how imposing he is.
Support: As nominator. -MolagBallet (talk) 23:03, 19 August 2020 (UTC)
Support: Cool angle and the shadow is nice as well... superb details thanks to the high quality. Definitely fitting as FI. (Unless there's some similar SR FI image already...?) Tib (talk) 17:37, 25 September 2020 (UTC)
Comment: Well, since Tib brought it up, there is this image which is somewhat similar, but it was featured 7 years ago. There's also this image which is already in the queue as one of the next FIs; it's not SR but it is similar to some extent. Not that there's anything wrong with having multiple werewolf FIs, as long as they're not featured too soon after one another. — Wolfborn

↝

(Howl) 19:34, 25 September 2020 (UTC)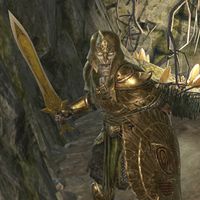 High resolution, great lighting with perfect highlights/contrast. Background neither busy nor boring. It would be great to have a Blades image featured, and this gets almost the most possible out of a Blades screenshot.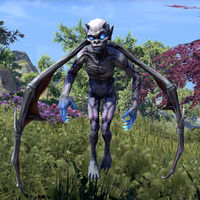 This image has wonderful lighting, and the subject takes up most of the shot.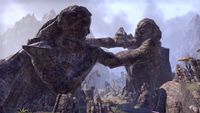 Previously nominated by Tib about 4 years ago, it didn't pass due to the lighting and it being hard to make out what it depicts. I have replaced the old screenshot previously taken Vordur, and replaced it with my own. I took advantage of the newer image standards to fit in more of the figure, and took it in clear lighting. I will quote Tib on the significance of the carved cliffs.
"A window to the past of Stonefalls... This statue tells a story of two brothers and their ultimate sacrifice to save their home in the face of war. Brothers of Strife is an interesting bit of lore and, in my opinion, one of the things you definitely take with you when you leave the Stonefalls area in ESO. Again, this is such a great FI material. As above, if there is something you think could be improved, share your thoughts!"
And there you have it.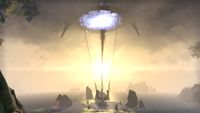 A wonderful composition with a stunning arrangement of color and value. The sun shining behind the chains is the epicenter of the image, drawing attention to the anchor. The landscape around the dolmen accents the main focus without drawing too much away from it, and adds to the beauty of the scene.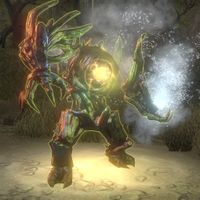 A difficult shot with no UI elements, featuring a boss from ESO's new solo Arena in the midst of casting an ability.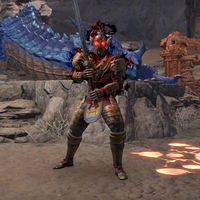 Great framing, good colouring; a high res image capturing a cool group dungeon moment (dude drank dragon blood). Pretty difficult shot to take and this one came out looking excellent.