Skyrim:Vulthuryol
The UESPWiki – Your source for The Elder Scrolls since 1995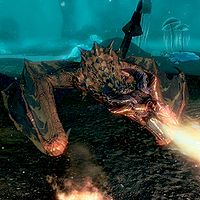 Vulthuryol is a dragon found within Blackreach. He can be summoned by using Unrelenting Force on the hanging yellow Dwemer gong within the Silent City. His name in the dragon language means "Dark Overlord Fire".
As soon as he is summoned, he will fly over the Dwemer fortress the orb hangs over, using his only shout, Fire Breath (but not pointed to any enemy). He will then land outside of the fortress and will remain on the ground for the rest of the fight.
Vulthuryol cannot be tamed with Bend WillDB because Blackreach is not listed as a suitable worldspace for taming dragons. Even if tame, his scripting prevents him from flying because he would not properly collide with the world.
Because of his fixed health, he can be dangerous for low-level players.