Skyrim:Honeystrand Cave
The UESPWiki – Your source for The Elder Scrolls since 1995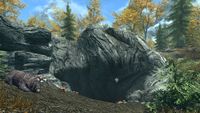 Honeystrand Cave is a small bear cave named for several nearby beehives. It is located to the south of Ivarstead across the bridge—close to the road intersection. It is inhabited by several bears that can be found in and around the cave.
Related Quests
[
edit
]
Note: This location is one of many potential targets for one or more of the radiant quests found on this page.
Walkthrough
[
edit
]
Exterior
[
edit
]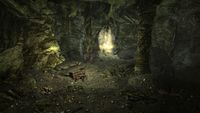 A single leveled bear guards the entrance. There are four beehives nearby making it an ideal place for harvesting bees, beehive husks, and honeycombs. There is also a canis root near the entrance and many trees that the bears have damaged or killed.
Honeystrand Cave
[
edit
]
The entrance leads directly into a single chambered cave typically occupied by up to three bears. In front of you is an unlocked chest with a growth of imp stool fungus to the left and a dead bandit beside it, who carries a copy of the Lockpicking skill book The Locked Room. Hanging from the roof of the cave and from ledges are many hanging moss plants, while several torchbugs are flying around the rear of the cave. Next to the west wall is a dead goat with another patch of imp stool, and against the north wall is a patch of white cap fungus. The floor of the cave is littered with old bones, both human and animal.
There is a dead woodcutter's camp not too far away from Honeystrand Cave. The campsite is northeast of the cave, heading up a hill towards Geirmund's Hall.