Redguard:Maps
The UESPWiki – Your source for The Elder Scrolls since 1995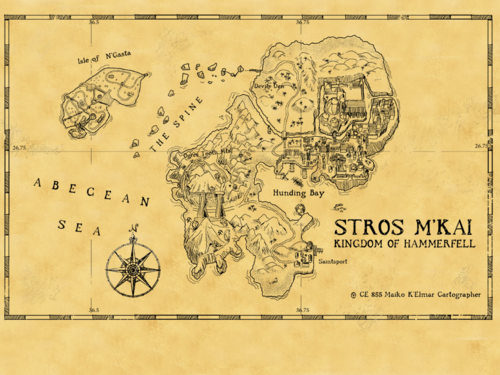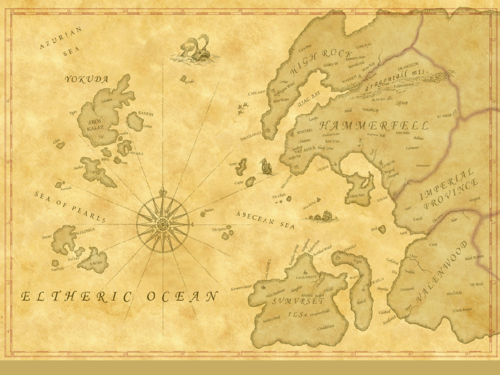 Two detailed maps were released alongside Redguard, one of Stros M'Kai and the other encompassing the majority of western Tamriel. Both were drawn by Hugh Riley, but in-universe the Stros M'Kai map was made by Maiko K'Elmar in 2E 855, and most likely the other one was made by him as well.
The island map item can be used to show a cropped version of the Stros M'Kai map. All of the loading screens have a part of the West Tamriel map in the background, and place names are clearer for some areas. The introduction cutscene features this map as well, when it zooms in toward Wayrest while the red Imperial territory of Tiber Septim expands into Hammerfell. The game's box art and The Redguard Companion use various parts of the West Tamriel map and reveal several otherwise blurry names.
Maiko's cartography shop has three more maps on the walls and tables, showing Nalonga and Ravan, the Summerset Isles, and Hammerfell. However, none of them have much detail. The Hammerfell map is also found in the League hideout near Basil and Vander. During the quest to find the Flask of Lillandril, Maiko will create a map from some elven notations. It shows the area around Saintsport where the flask is found, and the other quest-related items show the path.
Unofficial maps of the Catacombs, Treasure Vaults, Goblin Caverns, and Dwarven Ruins can be found on their associated quest pages.
A much higher quality version of the Stros M'Kai map was shipped with physical copies of Redguard. A scan is available on The Imperial Library.
A trace of the West Tamriel map with readable names can be found here.
Ravan is spelled Raven on the game's box art, but not on the full map or Maiko's map.
The loading screens use a slight variation of the West Tamriel map, with the label for Eltheric Ocean curved instead of straight.
Gallery
[
edit
]