Online:Siroria
The UESPWiki – Your source for The Elder Scrolls since 1995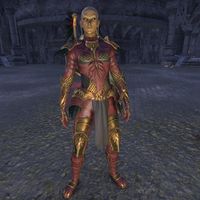 Siroria is one of four Welkynar Knights. During the fall of Cloudrest she is corrupted by Z'Maja and fights for her as a shadowy clone. If she is defeated alongside Z'Maja in the final battle she is released from her spell and retakes her mortal form.
Siroria fights alongside her gryphon companion, Silaeda, who is capable of powerful fire magic. Siroria is the author of a manual for potential recruits detailing how to become a Welkynar, and how to bond with a gryphon companion.
Related Quests
[
edit
]
Dialogue
[
edit
]
If her shade is killed

Shade of Siroria: "I was … defeated?"
Siroria: "No! I can't … fall … like this!"
Once released, she can be found in the center of the Aerie alongside Olorime. If one or more of her fellow Welkynars died:
Olorime: "We've defeated Z'Maja, but at what cost?"
Siroria: "Olorime, my power … I can't feel it. It's gone. I don't know if I'll ever be able to fight again."
Olorime: "No … no, we can't give up hope now! I know we can rebuild our order. Together."
Olorime: "We'll train a generation to protect Summerset, stronger than before!"
Siroria: "You're right, as usual. I swear to never give up on our order, as long as there's breath in my lungs! You can count on that."
You can speak to her after this.
"So this is the end of my fighting days? I suppose I'll have to find a new purpose in rebuilding our order. Passing on my wisdom and all of that."
If all of the Welkynars survived:
Z'Maja: "Cloudrest has already fallen… my death will not change that…!"
Relequen: "Never have I seen such a resounding victory! The bards shall sing of this day."
Siroria: "Finally, my flame burns once more!"
Relequen: "I feel my power again as well. The Welkynars shall continue on!"
Galenwe: "Yes, though I can't say the same for Cloudrest. The city may never recover."
Olorime: "My friends, we're all alive! We all can fight! And together, there's nothing we can't do."
Speaking to her here:
"Feels good to have the old flame back again!
I have to say, it feels strange talking to someone I know could kick my arse in a fight, even if it was my shadow self. Just know you're one of a very few, friend!"
Gallery
[
edit
]