Online:Relequen
The UESPWiki – Your source for The Elder Scrolls since 1995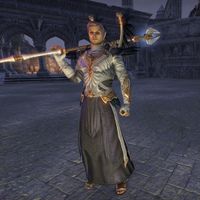 Relequen is the leader of the four Welkynar Knights. He fights alongside his gryphon companion, Belanaril, who is capable of unleashing powerful lightning magic. During the fall of Cloudrest he is corrupted by Z'Maja and fights for her as a shadowy clone. If he is defeated alongside Z'Maja in the final battle he is released from her spell and retakes his mortal form.
Related Quests
[
edit
]
Dialogue
[
edit
]
If you kill the Shade of Relequen, the following exchange takes place and Z'Maja executes Relequen:
Shade of Relequen: "Z'Maja will … crush you."
Relequen: "I'm sorry Olorime … we failed you."
Z'Maja: "How does it feel Olorime? To see your companions die?"
Olorime: "Curse you, Z'Maja! You'll never get away with this!"
If his shade is not fought individually, he will be released and the following conversation occurs:
Olorime: "We've defeated Z'Maja, but at what cost?"
Relequen: "Olorime, my power … it hasn't recovered. I'm not sure if it ever will. I'm not sure … if I can still fight by your side."
Olorime: "No … no, we can't give up hope now! I know we can rebuild our order. Together."
Olorime: "We'll train a generation to protect Summerset, stronger than before!"
Relequen: "Well, when you put it like that …. I have always been an excellent mentor."
Speaking with him here:
"My power may be gone, but my life remains. I'll continue on as I always have; in service to the Welkynar, and the goodness they represent."
If all the Welkynars are saved:
Z'Maja: "Cloudrest has already fallen… my death will not change that…!"
Relequen: "Never have I seen such a resounding victory! The bards shall sing of this day."
Siroria: "Finally, my flame burns once more!"
Relequen: "I feel my power again as well. The Welkynars shall continue on!"
Galenwe: "Yes, though I can't say the same for Cloudrest. The city may never recover."
Olorime: "My friends, we're all alive! We all can fight! And together, there's nothing we can't do."
He can then be found in the center of the Aerie alongside Olorime.
"Z'Maja is defeated, and the Welkynar are whole once more! Never has there been a greater cause to rejoice.
My friend, your name shall forever be honored. I swear by the Stars!"
Gallery
[
edit
]