Online:Greymoor Keep
The UESPWiki – Your source for The Elder Scrolls since 1995
This ancient structure has loomed over the Greymoor Cavern of Blackreach since before the Dwemer built their underground cities. Great power resides in the very stones used to construct the place, and some legends claim that the first vampires laid those stones.
Quest Hub
Discoverable
Yes
Completion
Objective
Occupants
Bloodknight, Death Hound, Gargoyle, Giant Bat, Harrowfiend
Bone Flayer, Gray Host Battlemage, Gray Host Berserker, Gray Host Darkblade, Gray Host Shadowcaster, Gray Host Skullguard
Vampire Bloodarrow, Vampire Darkblade
Zone
Greymoor Cavern, Blackreach: Greymoor Caverns
Location
Northern Blackreach: Greymoor Caverns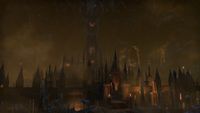 Greymoor Keep is a massive fortress and home of the Gray Host. Residents include the Ashen Lord and Lady Essenia. A thieves trove can spawn beneath the southernmost arch in the bridge, where a powerful Frostbite Spider resides.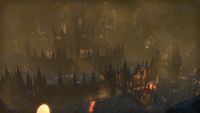 Related Quests
[
edit
]
Greymoor Keep Objective: Uncover the truth of the Blood Queen's vile experiments. / You brought an end to Lady Essenia's vile experiments.
Greymoor Rising: Prevent a Harrowstorm from being unleashed on Solitude.
Exterior
[
edit
]
West Wing
[
edit
]
Locations
[
edit
]
Greymoor Keep Outer Courtyard
[
edit
]
Greymoor Keep Inner Courtyard
[
edit
]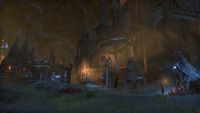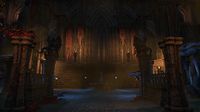 The Inner Courtyard is approached from the bridge that crosses over the fissure full of lava. You also cross over the Inner Courtyard after exiting the west wing's ritual chamber.
Greymoor Keep: West Wing
[
edit
]
The West Wing is accessible via tunnels on the west side of the keep.
Gallery
[
edit
]