Online:Arlof
The UESPWiki – Your source for The Elder Scrolls since 1995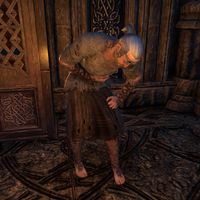 Arlof is a Nord vampire who can be found at the kennels in Greymoor Keep.
Related Quests
[
edit
]
Quest-Related Events
[
edit
]
When you first enter the kennels, you can hear his voice.
Arlof: "Please … I'll submit. Tell Essenia I'll do anything she asks!"
Gwendis: "Prisoners. Come on, let's hurry!"
Approach Arlof's cage.
Gwendis: "Adusa? Adusa, are you here?"
Arlof: "Adusa? The Khajiit? I know where she is, Elf! Release us and I'll tell you!"
After you throw the lever, all the captives will be set free. Gwendis will pull Arlof aside.
Gwendis: "You're free! Get out of here, quickly! Except you, Nord. You're coming with us."
Arlof: "What? No! We'll talk outside! I'm not going to—"
Gwendis: "You are going to, or I'm going to throw you back in that cage. Now, move!"
Arlof: "You're as bad as Essenia …."
Speak with him when you meet back up with Gwendis.
"You're fools if you think you'll survive this place on your own. I've seen what Essenia does to people. You … you have no idea what she's capable of.
This Wood Elf's friend? Adusa? She's likely dead. Or worse."
We'll take our chances. Now, tell us everything you know about Adusa.
"Fine. If you want to be her next test subject, so be it.
The Blood Queen lured my clan here with promises of protection and glory. We were a small family. Just four of us in all. So, we came to Greymoor Keep expecting a warm welcome."
What happened when you arrived?
"They cast us into those pens like dogs. Didn't take long before the tests started. They forced us to drink tinctures, endure injections. They slaughtered anyone who refused.
Occasionally, Essenia would come down to select someone for further study."
And Essenia selected Adusa?
"Yes. Most of the Khajiit died early, but that Adusa weathered it without so much as a whimper.
Essenia mentioned a laboratory beyond the arboretum. She said something about completing the transformation there. That's all I know. Now, let me go!"
All right. We'll look for this laboratory.
You can ask him further questions after the interrogation.
"The interrogation is over now, right? I need to … I need to find a healer. A witch to purge whatever this is out of my blood.
You got what you wanted. Now, let me go!"
Not so fast. I need to know more.
"Ugh. Can't you see I'm in pain?
I'll answer a few questions more, but I need to escape this place. I … I can't think."
My companion heard that Essenia ceded her castle to a vampire from the west. Is that true?

"Yes. The Ashen Lord.
No one mentions his name. They only whisper about him. The way peasants whisper about Alduin while they clutch their prayer stones. I've never seen him, but if Essenia swore fealty to him? He must be something horrible."

Did Essenia tell you anything about the tests you're undergoing?

"Only that it would unlock our true potential. Our hidden strength. Unless my hidden strength is vomiting bile until nothing's left but heaves, I think she's missed the target. What a load of skeever piss.
It did drive a few vampires mad, though"
Mad? Mad how?
"I mean just what I said. They went feral. Hissing and growling like animals. Sometimes I feel like I'm bound for the same fate. It's been harder to think. To talk. The light gets too bright sometimes. Even candlelight.
I have to find a healer!"
You said Adusa weathered it, though?
"Better than most. I wager that's why Essenia took her to the laboratory.
The Blood Queen's looking for something specific. I don't know what it is, but your Adusa might have it. Too bad for her."