Online:Grolag
The UESPWiki – Your source for The Elder Scrolls since 1995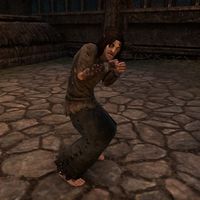 Grolag is an Orc who can be found in the courtyard at Greymoor Keep.
Related Quests
[
edit
]
Quest-Related Events
[
edit
]
You will find him in the courtyard while looking for a way into the keep with Gwendis. He is terrified of you, and cowers.
Grolag: "Outsiders! Surface-dwellers!"
Gwendis: "Quiet down! We're not here to harm you. I promise."
Speak with him.
"No … harm? No hitting? No. No! The Wood Elf lies. Everyone lies!
Essenia will beat me. Will kill me! Then bring me back. Then … then kill me again!"
Easy. What did Lady Essenia do to you?
"Tested me. But I failed! Failed experiment. Failure! So … so many more. So many dead. But not anymore. No. The Blood Queen succeeded. Can't stop her now. You can't! Must serve. Have to serve.
Nowhere is safe. Nowhere. You … you must run! Flee!"
We can't leave now. We have to get inside the keep.
"Foolish! Only death inside. Death and torture. My clan … all I had. Gone … gone because of Lady Essenia.
But the Blood Queen reigns. Don't you see? She is master. I am servant. I … I have to serve."
Can you tell us if there's an entrance to the keep, at least?
"You think you can hide from her? No, no, no. The Blood Queen sees. The Blood Queen knows! But … if I tell you, you will leave. Yes. You have to leave!
I will show you. I will show you the way. Then you go die alone in the cave!"
Show us how to get inside and we'll leave you alone. You have my word.
He heads up the path and points to the northwest, towards a cave.