Online:Blessed Crucible
The UESPWiki – Your source for The Elder Scrolls since 1995
Group Dungeon
Discoverable
Yes
Completion
Objective
Dungeon
Yes
# of Zones
1
Zone
Smokefrost Peaks, The Rift
Location
The Rift
Instanced Dungeon
Min Level
38
Group Size
4
Bosses
3
Mini-Bosses
3
Loading Screen

Warriors from all over Tamriel whisper about the Blessed Crucible, the hidden arena in the mountains of Skyrim where the mighty contend for fame, wealth, and the fabled Brimstone Crown.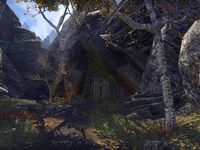 The Blessed Crucible is a group dungeon found in the Rift.
This dungeon takes place in a vast daedric ruin repurposed as a gladiatorial arena. In it, you must help Talres Voren pay off his debts by winning the tournament and becoming the Champion of the Crucible. You can learn about its location from Vlesyl the Skin-Stealer in Rawl'kha, Sluz the Beryl-Chested in Evermore, or Kailstig the Axe in Riften.
A letter is located on the top bunk of one of the beds to the right of the entrance to the Gladiators' Quarters. There is a chest to the left of this room's exit.
Several books are located on the plaques of statues in the chamber preceding the Lava Queen's arena, which tell of the Crucible's ten champions: Aleris the Shroud, Crow Bringer, Hagrof the Righteous, The Thousand Arrows, Lucius the Stalwart, Whitebear, Ferian Darkstorm, Felhorn, Sanarel the Great and The Lava Queen. The tale of Josef the Intolerant is located in the previous room.
Related Quests
[
edit
]
Enemies
[
edit
]
Normal Enemies
[
edit
]
Minibosses
[
edit
]
Achievements
[
edit
]
There are seven Achievements associated with this dungeon:
Achievement
Points
Description
Normal
Blessed Crucible Vanquisher
10
Defeat the Pack, the Beast Master, and the Lava Queen at the Blessed Crucible.
Veteran
Blessed Crucible Conqueror
15
Complete Veteran Blessed Crucible by defeating Grunt the Clever, the Pack, Teranya the Faceless, Troll King, Captain Thoran, and Lava Queen.
Coronation by Fire
50
Defeat the Lava Queen in Veteran Blessed Crucible, after invoking the Scroll of Glorious Battle.
Veteran Durzog Slayer
10
Defeat 150 Durzogs in Veteran Blessed Crucible.
Veteran Gladiator Slayer
10
Defeat 500 Gladiators in Veteran Blessed Crucible.
Blessed Crucible Survivor
50
Defeat Grunt the Clever, the Pack, Teranya the Faceless, the Troll King, Captain Thoran, and the Lava Queen in Veteran Blessed Crucible, without suffering a group member death.
Blessed Crucible Assassin
50
Defeat every boss in Veteran Blessed Crucible within twenty minutes of starting the dungeon. Timer starts when any group member cross the first bridge over lava.
Despite being dungeon bosses, the members of the Pack are not immune to crowd control. Use this to your advantage during the fight.
Before dungeon scaling was introduced in Update 5, Blessed Crucible was designed for levels 40–43.
When you exit this dungeon at the end, you'll wind up in Stonefalls instead of The Rift.
Gallery
[
edit
]