User:Vulpa/Sandbox4
The UESPWiki – Your source for The Elder Scrolls since 1995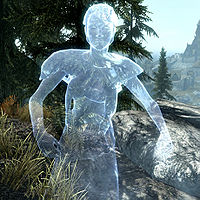 Ghosts are the incorporeal, restless spirits of the dead citizens, and in some cases, creatures, of Skyrim. Their equipment varies and although they are usually poorly armed, they may prove to be a threat to low-level adventurers due to their resistance to non-magical weaponry. Some ghosts, generally those resurrected as a necromancer's slaves, may constantly apologize to the player while attacking and may even thank the player upon being slain. Though a ghost has no physical body, it can still be affected by shouts and finishing moves, including decapitation. A sleeping one can even be used by vampire players, despite there being no physical blood to drink.
Most ghosts are considered people and have grand-level souls (black) that can be used for enchanting purposes (or recharging). Those ghosts that are considered creatures have leveled souls. All ghosts, regardless of type, can drop ectoplasm.
Some ghosts can be conjured as combat allies by the player, such as familiars.
See here for a comprehensive list of ghosts.
List of Ghosts for Possible New Category
[
edit
]
---