Skyrim:Slaughterfish
The UESPWiki – Your source for The Elder Scrolls since 1995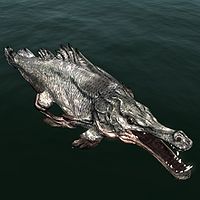 Slaughterfish are small, hostile fish with razor sharp teeth. They can be difficult to kill due to the fact that entering deep water forces you to sheathe your weapons, necessitating attacks from land or shallow water.
Some dead slaughterfish can also be found in some dungeons. Their corpses may be looted for slaughterfish scales, while their eggs can only be harvested from clusters found underwater. The eggs can be used to breed non-hostile slaughterfish in the fish hatchery at Windstad Manor with the Hearthfire add-on installed.
With FishingCC, slaughterfish can be fished and then eaten raw or cooked.
Hearthfire
[
edit
]
With the installation of the Hearthfire add-on, you have the ability to create a slaughterfish statue on a small base in the trophy room addition of any homestead, should you choose to build it. The materials needed are:
Slaughterfish
Also added with Hearthfire, you can create slaughterfish trophies, using 2 slaughterfish scales, and leather strips