Skyrim:Nirya
The UESPWiki – Your source for The Elder Scrolls since 1995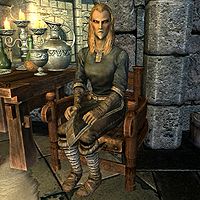 Nirya is a High Elf sorceress and a scholar at the College of Winterhold. She does not offer any training to you nor does she offer any kind of merchant services. She is not on good terms with Faralda.
Nirya will spend the morning and evening in the Hall of Attainment and much of her day in The Arcanaeum. She wears expert robes of Destruction and a pair of boots.
Nirya may greet you with, "It's a small group of us here at the College. Favors don't go unremembered. Neither do affronts.", "If you're working on any experiments, please clean up after yourself.", "Just like anywhere else, it's all about who you know. Lucky for you, you know me.", or "I think the College is due for a change in leadership."
Should you become Arch-Mage, however, her tone will change as she will quite obviously try to win your favor by saying things like, "May I just say, it's a pleasure to have you leading the College. Really.", "I'm sure you've made note of who's been the most helpful during your time here, Arch-Mage.", "If there's ever any way I can assist you, please let me know.", and "Ancano is exactly why we're so restrictive about access to the College. We'd all have perished if it weren't for you."
When first spoken to, Nirya will vaguely comment, "It's lies. All of it. I don't care what she told you, it's all lies." If you ask who she is taking about, she will answer, "Faralda. Don't act like she didn't say anything. I know her, I know what she's been up to." If you instead say you have no idea what she's talking about, she will warn you, "No? Well, then she hasn't gotten to you yet. But she will. And you don't you believe a word of it."
You may ask her about her problem with Faralda, which Nirya will vehemently deny: "My problem with her? She's the one who has a problem with me! She's threatened by me! By my skill as a wizard, by my elegance and posture, by my superior good looks! But she's not going to get the better of me, oh no. I won't let it get to me one bit. That's what she's after."
Sergius Turrianus is also a reason for the rivalry between Nirya and Faralda, as they are both marked as his secret lovers. She visits Sergius at 11 pm for 3 hours, before heading off to bed.
Quest-Related Events
[
edit
]
Like most members of the College, Nirya will express suspicion of Ancano, Arch-Mage Aren's advisor: "Don't trust that one. He's up to something. Most here are up to something, of course, but in his case, it's not good. I haven't figured it out yet, but I will." along with an admiring comment: "He is rather handsome though, isn't he?"
Asking if she has ever heard of the Augur of Dunlain will yield an unhelpful response from her: "It's not enough that you've stolen the spotlight with this Eye thing, now you're looking for the Augur? I'm not sure what you're playing at, but you'd do well to remember your place around here."
As you complete more quests for the College, Ancano will eventually unleash disaster on Winterhold when he takes control of the Eye of Magnus, proving Nirya's suspicions. During this, she will ask you, "What's going on?!" When you set out to retrieve the Staff of Magnus, she will remark, "We never should have pulled that thing out of Saarthal." During The Eye of Magnus, she can be found saying, "Why doesn't someone do something?"
The Black Star
[
edit
]
During The Black Star, asking if there is an elven mage in the College that studies stars will make her suspicious: "Did you say an 'elf' and 'stars'? I hope you don't know what you're asking." Further inquiring about what happened will have her explain, "There was an... unfortunate incident a few years ago. An elven mage named Nelacar was exiled from the College over it." and interestingly comment, "He's still in town, getting by plying spells to the people inside the Frozen Hearth. Disgraceful." If you instead state that you were given a vision, she will reply with, "You were given a vision? Are you serious? Whatever. The person you probably want is Nelacar. He's in the Frozen Hearth. Be careful, he was exiled from the College for a reason."
Nirya knows the following spells:
Fireball, Firebolt, Flame Cloak, Flames, Frostbite, Frost Cloak, Ice Spike, Lightning Bolt, Lightning Cloak, Sparks
Conversations
[
edit
]
Urag: "Can I help you with anything, Nirya?"
Nirya: "I was wondering. Has Faralda been in recently? Borrowed any books that you can recall?"
Urag: "Nirya..."
Nirya: "Did she, perhaps, mention any dangerous research she might be working on? Anything that could get her in trouble?"
Urag: "I'm here to help you with books, Nirya. That's all."
Nirya: "Ah, yes. Of course. No, I don't need anything."
Urag: "You've been spending a fair bit of time with Sergius lately, I see."
Nirya: "What? Why, the audacity! How dare you imply such a thing!"
Urag: "Calm down! Why are you over-reacting? I was going to ask if the two of you are collaborating on research!"
Nirya: "Oh! Well... I... I'm sorry. Yes, we have been working on something together."
Urag: "This is why I avoid being social."
Nirya was originally going to give you a quest where she requested some of Faralda's Notes to be "retrieved" by you. You would then have the option to either expose the scheme to Faralda, or play along for a reward of 100 gold.
You look like you could use some help.
"Well, I suppose I could use a hand with something, yes. Faralda's working on something, and I want to know what it is. I want her notes. You think you could get them for me, without her knowing?"

You would have had two possible responses:

Isn't that stealing?
"Yes, yes it is. You have a problem with that? Look, either you get the notes or I'll figure out another way to do it. Just come find me if you can get your hands on them.

What's in it for me?
"I'll throw some money at you. Good enough? Just get the notes and bring them to me. If you can't do it, I'll find some other way to manage it."

During the quest she could also say:

"I'm still waiting for those notes, if you can get them."

Turning in the notes:

Here are the notes you wanted.
"Good, good. She didn't see you take them?

Al right 

[sic], this should be enough to figure out what she's up to. Then I can make sure it doesn't work. Good work. Here, take this, and keep quiet."
According to the unused quest stages of First Lessons, Nirya was supposed to be guarding the entrance to the College of Winterhold, and thus play a part in entering the College when you are required to cast a spell. She even has unused dialogue that indicates her part as the gatekeeper. This never happens in game, however, leading to a bug under certain circumstances as noted below.
The following line can be heard if you manage to enter the College without talking to Faralda, such as by entering via the Midden.

What are you doing out here?
"I'm here to assist anyone interested in joining the College. Also, my presence tends to frighten the locals and keep them away."

Other unused dialogue indicates that Nirya, like Faralda, would have given you a test. Unlike in the final version of the game it would have been possible to fail this test.

If you failed the test, she could say:

"It would seem that you have yet to reach a level of skill that the College would find valuable, so I'm afraid I can't allow you to join at this time."
"Unfortunately, one needs to be able to cast at least Apprentice level spells in any school of magic before being allowed to join the College. And thus, you're not skilled enough to be a candidate. I'm afraid we're not interested."

You could have asked her why she rejected you:

What do you mean, I'm not skilled enough?
"Just that, I'm afraid. You lack the ability, in any school of magic, to contribute meaningfully to the College's research. I suggest you learn more on your own. Come back once you've attained some measure of success."

If you passed the test:

There, I cast the spell.
"Well done, indeed. Well, you clearly possess the minimum aptitude required. Congratulations. I'll escort you up to the gate. You'll want to speak with Mirabelle Ervine right away. And welcome to the College of Winterhold."

Other unused dialogue:

No, why would I?
What if I do?

During Elder Knowledge, you also would have been able to tell Nirya that you were looking for an Elder Scroll.

I need to locate an Elder Scroll.
"A lofty goal, to be sure. And what brings your search to our doorstep?"
I was told someone at the College might be able to help me.
"It's true, the scrolls are a subject of interest to us, and work has been done to learn of them. But outsiders are not allowed within the College."
When asked about Ancano, her voice will change and be completely different.
If you gain entrance to the College by telling Faralda you are the Dragonborn and showing her your Thu'um, the miscellaneous quest to Visit the College of Winterhold will remain incomplete in your log and will point at Nirya indefinitely.
At times, she will completely ignore her schedule and instead follow you whenever you are in a close range to her, but not at a distance. When you are farther away, she will remain in the area she stopped at indefinitely.

This bug is fixed by version 2.0.4 of the Unofficial Skyrim Patch.
Typing setstage mgmainquestbridge 200 into the console will fix it.

She will stand in the courtyard of the College of Winterhold and never move. ?