Skyrim:Bloodskal Blade
The UESPWiki – Your source for The Elder Scrolls since 1995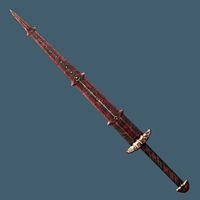 The Bloodskal Blade is a two-handed greatsword found in Bloodskal Barrow on the corpse of Gratian Caerellius. Its power attack shoots out an arc of red energy, depending on the direction of the slash. This energy is used for a puzzle within the barrow. It is also useful in combat, due to the fact that it deals damage with both the slash and the energy attack, allowing the player to hit enemies normally out of their reach. The sword also never needs recharging. It can be tempered with a silver ingot.
Related Quests
[
edit
]
When in Ethereal form, attacking with the Bloodskal Blade but not actually making contact with the enemy will still release the energy that does 30 points of damage, without ending the effects of the shout.
There is a script that gives bonus damage against Zahkriisos to the energy blade effect dependent on level. At less than level 50, it will do 30 additional points of damage, and at greater than level 50 it will do 50 additional points of damage.[verification needed — need complete figures]
The energy wave does not result in any experience for the Two-Handed skill.
The Bloodskal Blade does not display properly in many weapon racks, as re-entering the cell may cause the blade to fall to the ground. It will also not display properly in any display case in which you must place the item manually (as opposed to activating the display case), as once the item is placed eventually it will "leap" out and onto the floor.
The Bloodskal Blade is a silver weapon but does not have the script to handle the silver weapon perk attached to it.
The Bloodskal Blade will occasionally be acquired without the ability to emit the blade of energy which is supposed to be created when performing a power attack. The description, appearance, and melee functionality of the blade will not be altered. ?