Skyrim:Gratian Caerellius
The UESPWiki – Your source for The Elder Scrolls since 1995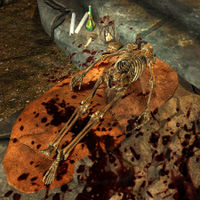 Gratian Caerellius is the skeleton of an Imperial that can be found dead in Raven Rock Mine, carrying a small amount of gold and his journal.
His great-grandson, Crescius Caerellius, believes he was killed in the mine and asks you to investigate for him during the quest The Final Descent. Crescius gives you a letter to Gratian from the East Empire Company which reveals that he was sent to the mine in 4E 10 to investigate some ruins that the miners stumbled across while working.
Reading his journal will reveal that he went there with his assistant, Millius, and they found the ruins of an old Nordic barrow which belonged to something called the "Bloodskal Clan". Though he tried to learn more about the clan from tomb inscriptions and his history books, he was unable to find any information, so they proceeded ahead to a massive chamber where they discovered a strange weapon called the Bloodskal Blade sitting on a pedestal. He described it as "flawless" in appearance and noted that it was emitting a "faint chilling glow".
Against the advice of Millius—and his own judgment—Gratian decided to remove the blade from its pedestal the day after he discovered it, to take it with them when they found a way out. Instead, they were attacked by draugr, and Millius was killed. Though Gratian survived the draugr, he was badly wounded and struggled in search of an escape from the chamber. He found a strange door with unusual markings on it, but was unable to find a way through. He discovered that the Bloodskal Blade would emit a ribbon of mystical energy when swinging it, and theorized that it may be possible to manipulate the ribbon to solve the door's puzzle. Unfortunately, his wounds were too great for him to learn that his theory was correct, and he died in the ruin after he became too weak to even stand.
Related Quests
[
edit
]