Online:Sister Bani
The UESPWiki – Your source for The Elder Scrolls since 1995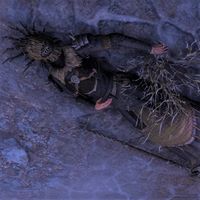 Sister Bani is a member of the Icereach Coven who specializes in necromancy. She can be found in their island fortress on Icereach.
Related Quests
[
edit
]
Spells and Abilities
[
edit
]
Summon Enervating Thralls

During the fight with Vearogh the Shambler, she will summon Enervating Thralls.
Quest-Related Events
[
edit
]
Sister Bani is first encountered in her laboratory, as soon as she notices you she will awaken one of her recent works to deal with you.
Sister Bani: "Disgusting intruders! I won't have it. I will not have it!"
<Vearogh the Shambler is roused.>
Idling before engaging in combat:
"Ugh, the smell! You're putrid. Putrid!"
"You did not wipe your feet, did you? Did you?"
"You're rotten! You're all rotten!"
"We'll make you clean. Naught but bones and ashes!"
When Vearogh is engaged::
Sister Bani: "Stinking, sweaty animals! Kill them! Kill them!"
Sister Bani: "Filthy beasts! How dare you soil my refuge! Crush them!"
Sister Bani: "Greasy interlopers! Filth! Slime! Kill them all!"
When she summons Enervating Thralls, Bani will announce:
"The dead heed my call!"
Group wipe:
"Dead? Good. Gather the rats to pick them clean!"
"Ugh, look at their corpses. What a mess. What a mess!"
"Well done, beast! Now, we boil the bones! Make them clean!"
Once Vearogh is defeated, Lyris Titanborn will arrive and argue with Bani briefly:
Sister Bani: "Filthy, disgusting interlopers! You think summoning is all I can do?"
Lyris Titanborn "Why not come down and show us, hag?"
Sister Bani: "Brought a beast of your own, eh? She'll die soon enough. You all will!"
<Sister Bani teleports away.>
The witch is encountered again in the ramparts courtyard, where she is helping the rest of the coven complete the storm ritual. At Mother Ciannait's direction, she will drop her shield and attack you directly. When Ciannait calls for more power to channel the Storm Surge, you can interrupt her along with her sisters.