Online:Sister Maefyn
The UESPWiki – Your source for The Elder Scrolls since 1995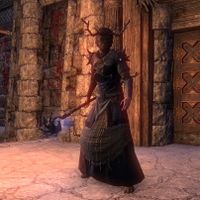 Sister Maefyn is a member of the Icereach Coven who specializes in storm magic, though she also has some skill with necromancy. She can be found on the ramparts of their island fortress.
Related Quests
[
edit
]
Spells and Abilities
[
edit
]
Sundered Sky

(?) (Used during final battle)
Related-Quest Events
[
edit
]
After you enter the Icereach Bailey, Lyris will have defeated one of their champions, only for Maefyn to intervene and create the Stormborn Revenant:
Lyris Titanborn "Stay down, witch-scum! Come on, we're getting close to the ritual, I know it."
Sister Maefyn: "So simple, is it? Arise, and fight on, champion!"
Idling before engaging in combat:
"Why do you hesitate? My servant yearns to make your acquaintance."
"Having second thoughts? Hmm. Cowardice is so off-putting."
"Longing for the Bear-Woman's help? Alas, alas …."
"Do take your time. This anticipation … it's exhilarating!"
During this fight with the Stormborn Reverant, she will assist with her magic along with summoning Frostborn Archers:
"The storm's strength is ours!"
"The storm's rage is endless!"
Group wipe:
"Over so soon? How embarrassing."
"Killed by a corpse …. Ironic."
"They were so vigorous! What a waste."
"Honestly, sisters, was that so hard?"
Once her champion is dead once more, Maefyn will threaten you:
Sister Maefyn: "So confident … so proud. You have no idea what kinds of forces you're meddling with."
Lyris Titanborn "Think you can lock me out? I'll knock that pretty head clean off your shoulders!"
Sister Maefyn: "Promises, promises. When our ally spreads his wings over the world, you'll lose so much more than your heads."
On that note, Maefyn then leaves.
The witch is encountered again in the ramparts courtyard, where she is helping the rest of the coven complete the storm ritual. At Mother Ciannait's direction, she will drop her shield and attack you directly. When Ciannait calls for more power to channel the Storm Surge, you can interrupt her along with her sisters.
After resurrecting once, her idle dialogues will turn into Sister Bani's, but without a voice-over. ?