Online:Justianas Gratus
The UESPWiki – Your source for The Elder Scrolls since 1995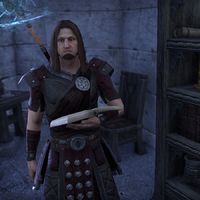 Justianas Gratus is an Imperial mage of the Imperial Legion found in the Nobles District of the Imperial City.
Dialogue
[
edit
]
"It's good to know there are other survivors out there. We haven't seen many new faces these past months. Not living, anyway."
What are you reading?
"This? Oh, it's an old book detailing the rise of Emperor Reman III. Capably-written, but largely apocryphal as far as I can tell.
Not exactly a masterpiece, but it's the only history book I could find. Any port in a storm, right?
Is now really the time to be digging out old books?
"Perhaps not. Or perhaps now, when the night grows darkest, we need the strength that knowledge provides more than ever.
Our history defines us and must be defended, even in grim times like these. Especially in grim times like these. Remember that."