Online:Iradal
The UESPWiki – Your source for The Elder Scrolls since 1995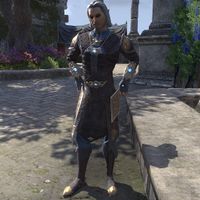 Iradal is an Altmer member of the Conclave of the Eleven Forces, the ruling council of the Psijic Order. He appears in Ceporah Tower at the start of Buried Memories. He is also the alternative quest giver for the Summerset story quests, starting from A Pearl of Great Price. He appears outside the Ceporah Tower and outside the bank in Alinor.
Related Quests
[
edit
]
Quest-Related Events
[
edit
]
A Pearl of Great Price
[
edit
]
After abandoning A Pearl of Great Price he can be found by the entrance to the Alinor bank. When interacted with he will say :
"Experimenting with time unfortunately leaves one rarely surprised. For example, I knew I would find you here."
Do I know you?
"I am sage of the Psijic Order, though you might not recognize me in this role of messenger.
The Ritemaster has requested your assistance. As I had business in the area, I said I would keep an eye out for you. "
What does the Ritemaster need me to do?
"I'm sure the Ritemaster will provide more details, but I suppose it involves the augury spell he plans to cast upon the abyssal pearl that you and Valsirenn discovered.
You can find the Ritemaster in Ceporah Tower on Artaeum."
I'll go and speak to the Ritemaster.
After accepting the quest, you can speak with him again:
"I delivered my message so do stop pestering me. I've got one-hundred-and-three unique forms and principles running through my head. If I stop to talk now, hours of work will be lost."
Buried Memories
[
edit
]
When looking into the scrying pool:
Oriandra: "Ritemaster! The abyssal pearl. It's gone!
Ritemaster Iachesis: "Gone? How? I set the protections personally!"
Iradal: "See what the scrying pool reveals! There's something happening on the beach!"
Ritemaster Iachesis: "The pearl! Somehow it was used to summon the yaghra! We need to defend the beach!"
Valsirenn: "Wait! Is that a sword?"
Golden Knight: "That would be mine. I'm on my way to help. Eventually.
Ritemaster Iachesis: "The Golden Knight and his sword can wait. The yaghra are our primary concern."
Valsirenn: "Follow the Ritemaster. I'll portal myself and meet you there."
Iradal: "My word, the vision showed us the Dawnbreaker! I'm almost positive."