Online:Elethien
The UESPWiki – Your source for The Elder Scrolls since 1995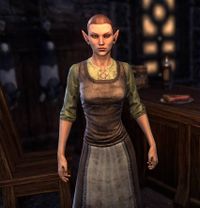 Elethien is a Bosmer who is initially found in the Screaming Mermaid in Port Hunding. She is a fan of Jakarn and will join Captain Kaleen's crew with him. Elethien is usually found in the company of her friend Nasmat and is on the lookout for rich nobles.
Dialogue
[
edit
]
Stros M'Kai
[
edit
]
Approach Jakarn's spot in the Screaming Mermaid, you'll find Elethien among his "court". Speak to her and she'll tell you:
"I don't really believe he's a captain. He looks so good I don't care."
Betnikh
[
edit
]
Her dialogue differs depending on your decision involving the artifact. If you decided to destroy it:
"Jakarn told me what you did. I'm impressed. The Orcs were too, so I've been told."
Daggerfall
[
edit
]
Wayrest
[
edit
]
"Well look who's here. The hero of Betnikh!
If you've come to recruit me, I must decline. I'm done sailing, and there's a rich Breton noble over there who could really use a friend.
Take care of yourself."
Sentinel
[
edit
]
She can be found on the second floor of the Screaming Mermaid.
"All these clothes. All this jewelry. Whatever is a poor Bosmer to do?"
Clothes? Jewelry?
"Oh, one of those rich Crown gentlemen has taken quite an interest in me. If he keeps showering me with gifts, I might end up with a ring.
Wouldn't that be something? A ring, in the desert, away from all the trees."
So you're finally going to settle down?
"If he plays his cards right. He's a good man, not just rich. I could see myself staying with him, and that says something.
If only we could do something about this cursed heat."