Online:Dwarven Crate
The UESPWiki – Your source for The Elder Scrolls since 1995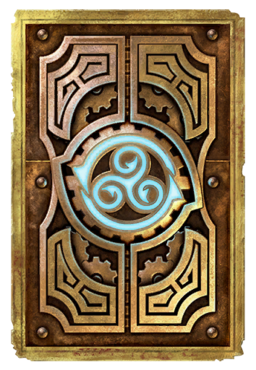 The ancient and long-lost race of the Dwarves delved deep beneath the surface of Tamriel, where they created subterranean cities of metal and stone maintained by mechanical constructs, automata that still work today millennia after their masters mysteriously disappeared. In the vaults below Arcane University, the Mages Guild collected thousands of rare Dwarven artifacts. When the city was sacked by the forces of Molag Bal, these items were smuggled out, and are now appearing on the open market.
This Season has a Dwemer theme. It was available during the third quarter of 2017. A crate from the Dwarven Season came with the Discovery Pack promotional bonus, which was released alongside Morrowind several weeks before the Season started. ESO Plus subscribers were able to earn up to 5 free crates during the ESO Plus Bonus Event. The possible rewards are as follows, grouped by rarity with Apex rewards being the rarest:
Apex Rewards

[

edit

]
Rare Apex Rewards
These items can only be won in crates, and cannot be bought separately from the Gem Store.
400 
Duplicate Apex rewards grant 00132132 

from extraction, *except the Resplendent Sweetroll, which grants 00400400 

.
Legendary Rewards

[

edit

]
200 
100 
Duplicate Legendary rewards grant 0003333 

from extraction.
Epic Rewards

[

edit

]
40 
Duplicate Epic rewards grant 0001313 

from extraction.
Superior Rewards

[

edit

]
16 
Duplicate Superior Rewards grant 000055 

from extraction.
Fine Rewards

[

edit

]
5 
Unwanted Fine Rewards grant 000011 

from extraction.
Common Rewards

[

edit

]
3 
Unwanted Common Rewards grant 000011 

from extraction.
External Links
[
edit
]