Online:Covenant Breton Terrier
The UESPWiki – Your source for The Elder Scrolls since 1995
The blue and silver of the Daggerfall Covenant decorate this adorable Breton Terrier, who wants to sniff all the sniffs while you go to war in Cyrodiil. For King and Covenant!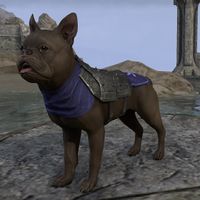 The Covenant Breton Terrier was first made available during 2021's Midyear Mayhem celebration. Its default name is "Kingling".
Acquisition
[
edit
]
To receive the pet, you need to collect and combine ten Breton Terrier Mammoth Bones while playing on a character that is part of the Daggerfall Covenant. In doing so, you will receive a Runebox: Daggerfall Breton Terrier Pet, which you can consume to collect this pet. You can find Breton Terrier Mammoth Bones inside of Pelinal's Midyear Boon Boxes. Alternatively, this pet can be purchased from the Impresario for 00000055 

.
There are three separate Alliance Breton Terrier pets, one for each Alliance. The Alliance your fabricated pet is associated with is determined by the Alliance of the character that consumes the ten mammoth bones; Aldmeri Dominion players will receive a Dominion Breton Terrier if they consume ten bones, and Ebonheart Pact players will receive a Pact Breton Terrier if they consume ten mammoth bones. This pet is not like the Alliance War Mastiff. The costume for one Breton Terrier does not change if you set it as your active pet on a character from a different Alliance.
Gallery
[
edit
]