Online:Captain Brivan
The UESPWiki – Your source for The Elder Scrolls since 1995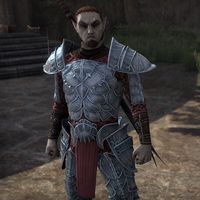 Captain Brivan is a Dunmer soldier of House Redoran in Balmora investigating the disappearance of Veya, Councilor Eris' daughter. You can initially find him looking over the waterfront just north of the stables.
Related Quests
[
edit
]
Quest-Related Events
[
edit
]
Fleeing the Past
[
edit
]
Speak to him when he's not a quest target and he'll only say "Halt!"
After being sent to him by Councilor Eris, he'll say:
"Not now, Outlander. If you need some sort of assistance, go find one of the House Guard."
Councilor Eris sent me to ask about the investigation to find his daughter.
"You must be one of the freelancers the councilor employed to supplement the duties of the House Guard. Very well, I'll tell you what I know. Veya ran away. Again.
I hope you can succeed where my troops have failed. If anything happens to Veya …."
Sounds like you have a personal stake in this.
"I've known the Releth family since I was a child. Veya is like a sister to me, and I'll do everything in my power to get her home safe and sound. Even trust an outlander.
We think her friends may know where she is, but they keep eluding us."
Maybe her friends will be less suspicious if I approach them.
"Perhaps. As long as you don't get too close. They've been running notes of late. I think it has something to do with Veya, but the runners keep evading my guards.
Look for a group meeting on the other side of town and see if you can follow the note."
I'll see if I can follow the note.
"When you find Veya's friends, remember to keep your distance. You just want to spot the note carrier and follow him to whoever's receiving these messages. That's the key to locating Veya.
If you can't do it, don't worry. The House can handle it."

Tell me more about Veya Releth.
"Veya's a born warrior. Hard-headed, stubborn, a real pain in the arse. She can fight like an angry netch, though. I keep trying to get her to join the militia, but she always turns me down."

Tell me about Veya's disagreement with her father.
"That's not my tale to tell. If Councilor Eris or his wife won't speak of the troubles his family has had to deal with in recent weeks, maybe you can ask Veya—if and when you find her."

Tell me more about this note you want me to follow.
"We started to notice groups of young Dark Elves gathering in out of the way parts of the city. One of my guards saw them pass a note between them, but they split up and she lost them in the back alleys."

What do you think the note contains?
"Could be a love poem or a recipe for kwama cream cocktail, but we suspect it's the way Veya has been keeping tabs on what's been happening in the city.
Look, it may amount to nothing, but the note could give us a lead on where to find Veya."
Speaking to Brivan if the runners have escaped:
"I saw you head across the bridge towards Veya's friends.
So, how did you fare, Outlander? Did you learn anything that might help us find the councilor's daughter?"
Veya's friends are trying to get a letter to someone named Drevis, but I lost them.
"Drevis? That laggard? I never understood what Veya saw in him.
I suggest you go back and try again. Just do a better job of keeping your distance and don't lose sight of the note carrier. That's our beat chance of learning anything."
Family Reunion
[
edit
]
Warclaw Ferhara: "Kill the intruders! They have interfered for the last time!"
Captain Brivan: "What's going on down here? It sounds like a—you! What are you doing here? Explain yourself!
Veya Releth: "That's for Ulran. Choke on your own blood, you bastard."
Veya Releth: "My father, the entire council, they're all guilty. They all have to die. I have to do this, so stay out of my way."
Naryu Virian: "Veya actually did it. She killed Brivan in cold blood."