Legends: FrostSpark Collection
The UESPWiki – Your source for The Elder Scrolls since 1995
FrostSpark Collection
Promotional Set


Mechanics and Effects
None
Release Date
November 1, 2018
Statistics
2 2 2 2 2 1
5 5 1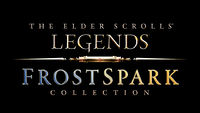 The FrostSpark Collection (previously the Frostfall Collection) is a promotional set of cards released on the 1st of November, 2018. It's available for ($9.99 USD / €9.99) or 1,500 in-game Gold. A premium version of this set is also available [verification needed — price in USD?]
The FrostSpark Collection consists of the following cards:
Name
Type (Subtype)
Attribute/Class
Text
Apex Wolf
Creature (Wolf)
Willpower
6
4
4
Epic
Breakthrough, Drain
Last Gasp: Draw the top creature of your deck and give it Breakthrough and Drain.
Death Hound
Creature (Beast, Vampire)
Endurance
5
6
6
Epic
Guard
Death Hound's power is equal to its health.
Destruction Tutor
Creature (High Elf)
Intelligence
5
3
5
Rare
Your actions that deal damage cost 2 less.
Green Pact Ambusher
Creature (Wood Elf)
Strength
2
4
1
Epic
Prophecy, Guard
At the end of your opponent's turn, if they have a full lane and Green Pact Ambusher is in your hand, summon her to that lane.
Harmony
Action
Willpower
2
Rare
Prophecy
Give all enemy creatures -2/-0 until the start of your turn.
Karthspire Scout
Creature (Orc)
Endurance
1
1
1
Rare
Last Gasp: Draw a card and increase its cost by 1.
Piercing Twilight
Creature (Daedra)
Intelligence
4
4
4
Epic
Guard
Summon: Choose a card in your opponent's discard pile. Banish all cards from your opponent's discard pile and deck with the same name as the chosen card.
Shadowmarking
Action
Agility
3
Epic
Look at the top three cards of your deck. Choose one to put into your opponent's hand and draw the other two.
Sword of the Inferno
Item
Strength
2
–
–
Rare
+2/+0
Summon: The wielder deals 2 damage to itself and another creature.
Torval Extortionist
Creature (Khajiit)
Agility
5
7
5
Rare
Slay: Gain magicka this turn equal to the slain creature's cost.
Wilds Incarnate
Creature (Beast)
Neutral
7
5
6
Legendary
Guard
Summon: Draw a card if you have 4 runes. Draw an additional card if you have 5 runes.
The set was known as the Frostfall Collection when it was first announced, in reference to its release month of October (which corresponds to Tamriel's Frostfall). This was changed on the 23rd of October 2018 because of a trademark filed for Frostfall by Dusk Games on the 3rd of that month. The name FrostSpark is a reference to Sparkypants Studios, who had taken over development of the game.