Skyrim:Staada
The UESPWiki – Your source for The Elder Scrolls since 1995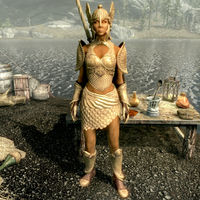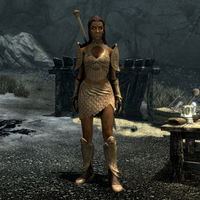 Staada is a Golden Saint who is encountered near Solitude's rock arch. She is met during a miscellaneous quest started by reading A Request to Meet, delivered by a courier after the quest Restoring Order.
Related Quests
[
edit
]
Dialogue
[
edit
]
You must be the one that sent that note.
"Indeed."
The following lead to peaceful resolutions, and she will reward you with her own helmet and teleport away:
I believe I have what you are looking for. (Give Sheogorath-Shaped Amber)
I believe I have what you are looking for. (Give Sword of Jyggalag)
"Very well. Here, take this for your troubles."
I suppose this is goodbye.
"It would seem so."
The following leads to a battle, and the end result is that she teleports away and you lose the chance to get her helmet:
I have the artifact you seek, but I think I'll be keeping it. So long. .
"Fool! What do you think you're doing?"
Staada can once again be encountered if you kept the Sheogorath-Shaped Amber. At the Atronach Forge, the following combinations will cause her to reemerge. Warning, the Sheogorath-Shaped Amber will be destroyed upon choosing one of these options. These combinations do not require the use of a Sigil Stone.

Sheogorath-Shaped Amber+Emerald will resummon her for another battle.
Sheogorath-Shaped Amber+Ruined Book+Bliss Bug Thorax+Sabre Cat Pelt will give you a Spell Tome to summon her.