Online:Marakar
The UESPWiki – Your source for The Elder Scrolls since 1995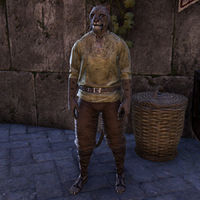 Marakar is a Khajiit pack merchant who can be found working at Satchels of Summerset in the Riverside Market in Alinor.
Dialogue
[
edit
]
If you have a Khajiit character, Marakar tries to flirt with you while conducting business:
"Sleek and fragrant! This one drools at the sight of you, my dearest five-claw! Marakar knows a place where we can zuub-zuub until our tails fall off. Very secluded.
But business before pleasure, you understand. This pack matches your eyes ...."
"Hail, sharp-claw! This one is pleased to see another furry face in this land of arrogant High Elves. Tell me, has the Divine Prosecution given you much trouble?
No, this one would rather talk business. Need a pack to match your sleek coat?"
"This one has lived in Alinor his entire life. Marakar isn't a newcomer or an immigrant! But all you new arrivals have made life difficult for me. So unfair of you, sharp-claw!
You could make it up to Marakar if you buy something, though."

To a character of any other race, he will reply:
"The Proxy Queen makes as many proclamations as the Distant Queen, and it causes Marakar's fur to itch! Weren't there enough rules and regulations? No? She had to add a dozen more!
Did you hear the latest? All newcomers must perchase a new pack, yes?"
"This one is not a newcomer, so do not try to take advantage. Marakar knows how to navigate turbulent waters.
Which reminds this one, you look rather fresh. Buy something and we will keep the cheating to a minimum, yes?"
"This one thinks the High Elves go to too much trouble to accommodate the newcomers. Marakar has lived here all his life and never once received any special treatment! A few beatings, no job opportunities, and squalid housing, yes, but nothing more."