Online:Legate Gallus
The UESPWiki – Your source for The Elder Scrolls since 1995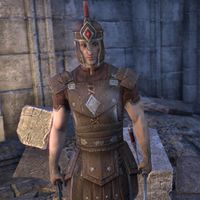 Legate Gallus is an Imperial soldier of the Imperial Legion found in the Memorial District of the Imperial City.
Related Quests
[
edit
]
Dialogue
[
edit
]
Accepting the quest from him again:
"Care to spy on the Worm Cult once more? My auricular geodes were quite a success, and my superiors requested your expertise."
What do you need me to do?
"Same as before. Take these auricular geodes, kill Xivkyn to empower them, and attach them to undead laborers."
All right I'll do it.
"Once you've placed the auricular geodes, meet me at the base."
You can ask him some questions about the mission:
Only Xivkyn will charge the fragments?
"The geodes are attuned to Coldharbour. When the Xivkyn expire, they emit a … I'll call it a "soul flare," though I'm certain that's not the name.
Regardless, it will charge the geodes. Curious little things, eh?"
What exactly is an auricular geode?
"Something the Arcane University devised before all of this madness. Whatever their original purpose, I know I can use them to spy on the Worm Cult.
That Xivkyn must die to empower them is a delightful side effect."
Returning with charged geodes.
"Good, you're back. Gave the Xivkyn a good thrashing, I hope. Did you place the auricular geodes?"
They're all placed.
"Excellent! Let's see what the Worm Cult is planning."
After the quest:
"Good work. In time, we shall know all the Worm Cult's plans. We'll hit them where it hurts."