Online:Julitta the Skin Taker
The UESPWiki – Your source for The Elder Scrolls since 1995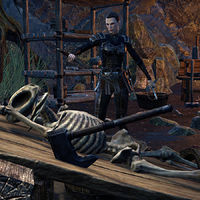 Julitta is an Imperial member of the Blackguards and the daughter of Captain Hostia Asellus. From an early age, she and her mother were a part of the Blackguards ever since her father was executed by Naga. Julitta learnt to hate the Argonians just as much as her mother did—as well as picking up Hostia's "hobby". Despite these predilections, she and her mother were extremely close.
If Hostia dies at the hands of Jaxsik-Orrn, Julitta will snap and take up the mantle of Skin Taker. She will kidnap, torture and skin several innocent Argonians within her den in the Singing Grotto before she is tracked down.
Related Quests
[
edit
]
Quest-Related Events
[
edit
]
Once you enter the Singing Grotto and move down the trapped passage, Julitta will call out to you—at first mistaking you for Axdred coming back with her mother's flensing knife.
Julitta the Skin Taker: "Axdred? Did you find it? I need it for mother. She has to be here for this."
<…>
"They're coming for me now. To send me to mother, but I won't go. I'm not finished yet!"
As you reach the main cavern:
Julitta the Skin Taker: "You won't take this from me! You won't take anything else from me!"
Combat

When you engage in combat, she will at first see you as the killer of her parents.
Julitta the Skin Taker: "You killed my mother! You killed my father!"
Julitta the Skin Taker: "They don't deserve your help! They don't deserve to live!"
As she dies, she will apologize to her mother for failing.
Julitta the Skin Taker: "Mother! I'm sorry …!"
You will not meet Julitta in game if you let Hostia live at the end of Missing in Murkmire. Instead, her mother will have resumed her role as the Skin Taker.
According to her mother's journal, her surname is Asellus.