Online:Hiding in Plain Sight
The UESPWiki – Your source for The Elder Scrolls since 1995
| | |
| --- | --- |
| | Help rescue the missing Narsis villagers. |
Councilor Ralden and Giron are missing, along with many villagers. Varon Davel believes Giron is working with the Maulborn. Apparently, Giron abducted Ralden. I need to find them before it's too late.
Quick Walkthrough
[
edit
]
Detailed Walkthrough
[
edit
]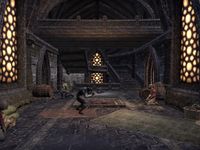 Varon Davel wants you to find the creator of the Llodos Plague.
You meet with your ally (Slips-Through-Fingers if you completed A Timely Matter, or Rila Lenith if you completed Ratting Them Out) outside of the Hlaalu Kinhouse. She has the Narsis Ruins Key and the location of the missing people: the ruins beneath Narsis. The door is to the west, near the West Narsis Wayshrine.
Inside the Narsis Ruins, fight through the Maulborn and defeat Giron Sadri. The door to the north leads into the basement of the Abandoned Home just outside Narsis. Use Giron's Key, which he dropped when you killed him, to open the door.
If you completed Ratting Them Out, you find Councilor Ralden, who has been fatally wounded, and the missing villagers. Ralden explains that he realized that Giron brought the Llodos Plague to Narsis, and that Giron had wanted the city sealed to isolate a large supply of potential corpses for further experiments. Ralden tells you to stop everyone from drinking the water, and reveals that Magistrix Vox is the Maulborn's leader and she plans to spread the plague to Mournhold. Ralden then dies.
If you completed A Timely Matter, you find Councilor Ralden being tended by Madras Tedas, as well as the missing villagers. Madras explains that his group of armed villagers were ambushed by the Maulborn in the ruins and massacred, but he managed to escape and found the basement, where he discovered the missing villagers and saved Ralden's life. Madras reveals the details of Giron and the Maulborn's plan.
Varon and the Narsis guards are outside. Varon thanks you for your assistance and informs you that city guards are clearing out the Maulborn from the ruins. He gives you a reward and the quest ends.
Quest Stages
[
edit
]
Hiding in Plain Sight
Finishes Quest
Journal Entry
The person I helped should be waiting outside. I need to find her so she can tell me where the villagers are being held.

Objective: Find Your Ally

I learned about ruins to the west of Narsis where Giron and the missing villagers might be. I've got a key and just need to find the entrance.

Objective: Find the Ruins Entrance

I found the entrance to the ruins. Now I need to use the key and get inside.

Objective: Enter the Ruins

I'm inside the ruins and the place is crawling with Maulborn. I need to find Giron and and put an end to this.

Objective: Stop Giron Sadri

Councilor Ralden and the missing villagers should be here somewhere. I need to make sure they're all right.

Objective: Find Survivors

Varon and the guards are waiting for me. I should speak to Varon.

Objective: Talk to Varon Davel

I should tell Varon what I discovered.

Objective: Talk to Varon Davel