Online:Famius Sisenna
The UESPWiki – Your source for The Elder Scrolls since 1995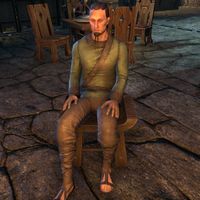 Famius Sisenna is an Imperial found at the Aldmeri Dominion Base located inside the Imperial Sewers. He is Annia Sisenna's husband.
Dialogue
[
edit
]
He's trying to stay optimistic.
"We've been through tough times before, but never anything like this. I've been trying to keep Annia's spirits up, but I wonder if I'm just being foolish."
"Thank you for coming to the city's aid, soldier. I won't lie—I don't think we've faced a threat like this, at least not here.
At least we're alive though, and that means there's some hope."
"They destroyed it all, our home, our furniture, all our belongings, even my cart.
If we survive this, picking up the pieces an starting over again won't be easy."
"If we don't wind up getting through this, my only hope is that someone will avenge our suffering from Molag Bal's machinations. If the gods are just, he will suffer."
What happened to you?
"Molag Bal happened, to all of us. Oh, he never set foot in the city, but he's responsible for it all. Annia and I lost everything—our shop, our home, our children, everything that made life worth living."
What will you do now?
"What can we do? We cower here, hoping the Dominion can defeat this evil and at least give us our city back.
I'm beginning to suspect there's little chance of even that."
How can I help?
"Get up there and fight. Every Daedra or Worm Cultist you kill brings us one step closer to seeing the sun again."