Online:Dark Mane
The UESPWiki – Your source for The Elder Scrolls since 1995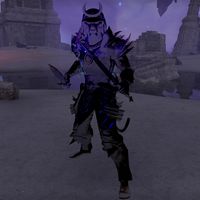 The Dark Mane is a dro-m'Athra who has possessed mane Akkhuz-ri and unleashed the dro-m'Athra upon Reaper's March. According to legend, the Dark Mane was the leader of the Khajiiti people in ancient times. He fell from grace, and was cast out of the Moon's light, forced to walk in darkness for all eternity.
Related Quests
[
edit
]
Quest-Related Events
[
edit
]
Stonefire Machinations
[
edit
]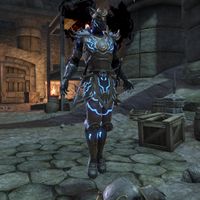 Mane Akkhuz-ri: "Please... I can't take any more."
Dark Mane: "This one knew the vessel was weak."
Dark Mane: "The Tharn will be displeased."
Dark Mane: "End this flesh before you. It is not fit to breathe."
Dark Mane: "We will meet again."
Motes in the Moonlight
[
edit
]
In the next chamber, you'll hear the haunting voice of the Dark Mane:
Dark Mane: "You're mine now, "Champions!""
Shazah: "Khali! Watch out!"
Khali: "What?"
The sisters are suddenly bound by magic:
Shazah: "Aah!"
Khali: "Aah!"
After wearing the Dark Mane down, he'll try to flee, but suddenly finds himself bound in magical chains:
Dark Mane: "Enough of this! I'll return to Tharn, and together we'll …."
Dark Mane: "No! Damn you, First Mane!"
The Fires of Dune
[
edit
]
Cleanse the Shrine of Jone and you'll hear:
Dark Mane: "Your precious Champion struggles and twists, like a bug in amber. Your Champion is mine, now."
The Den of Lorkhaj
[
edit
]
Gallery
[
edit
]