Online:Bravil
The UESPWiki – Your source for The Elder Scrolls since 1995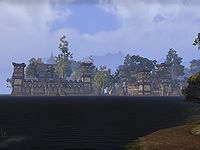 Bravil is a city in southern Cyrodiil, southeast of Castle Bloodmayne.
The city is currently inaccessible. There's no bridge across the Larsius River, and attempting to swim will likely result in being eaten by slaughterfish quickly. If you do manage to cross the river without dying, some potion ingredients can be found on the island, but the city itself cannot be entered. There is a gate and a bridge accessing the city from the southern side.
During the war in Cyrodiil, Captain Jena Apidia and her troops visited Bravil while fleeing the recently-invaded Imperial City, finding it severely lacking in resources from the war. Needing supplies but not wanting the already-starved town to starve to death, the troops massacred the civilians, killing more than half the town's population.
Bravil is mentioned in the quests An Affront to Mara and Debts of War.
An Argonian character that possesses warding skills can reach Bravil easier than most others. The Alliance War Support Ultimate combined with the Sorcerer class's Conjured Ward is a good combination to protect yourself from the slaughterfish long enough to get to the other side, and the Argonian swimming speed passive can carry you to the island before the wards run out. Unfortunately, if you manage to reach Bravil, you will be teleported back to one of your alliance's gates.