Online: Baan Dar's Boast
The UESPWiki – Your source for The Elder Scrolls since 1995
This page is currently being rewritten as part of the Online Quest Project.
The page is being both written and checked. All users are welcome to make changes to the page. If you make a change that is relevant to the project, please update this template accordingly, and make sure you have observed the project guidelines.

| | | | | |
| --- | --- | --- | --- | --- |
| | | Play pranks on the party-goers at Thormar. | | |
I met a strange old Wood Elf outside the ancient ruin known as Thormar. She's invited me to a party she calls "the greatest in all the worlds."
Quick Walkthrough
[
edit
]
Receive introductions with Yanabir-ja and Dolirdor.
Collect the components for Aniel's pranks.
Prank the Wood Elves and the Khajiit.
Talk to Aniel.
Detailed Walkthrough
[
edit
]
Queen Ayrenn's Army of Kittens
[
edit
]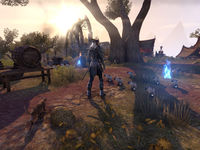 Bring the poisoned strangler stems to Yanabir-ja and help him roast them.
"Hello to you, Aniel's friend. This one wishes we had brought more moon-sugar with us. Roasts always taste better lathered in sweet."
I have these specially treated Strangler parts. I heard they're quite incredible when grilled.
"From Stranglers? Never would have thought of that. You know what? These will go right into the fire. Time we had a celebration! Thank you, traveler."
Yanabir-ja: "Everyone! Gather around the fire. Our visitor has introduced me to a new delicacy. This one thinks it will be a most fragrant experience. Baan Dar's tail, what is this? This one has never seen such things!"
The roasted strangler parts produce a thick green smoke. Everyone starts laughing, coughing or vomiting. A hilarious hallucination of Queen Ayrenn and her army of kittens appears, with a kitten of Razum-dar following her.
The Queen makes a speech to her troops, using some of these random phrazes: "I am disappointed, Centurion Longtail. Look alive! Smarten up, Captain Fuzzypaws! Raz, the troops' tails are not poofy enough. Centurion Softpaws, front and center! Scouty McWhiskers! Straighten that uniform! Raz, remind me to give you extra treatments when we get back to the palace. Troops, we will never face the puppy commandos in this shape!".
The Queen Ayrenn hallucination doesn't appear sometimes.

Possible fix: Be sure to give the strangler stems to Yanabir-ja first before placing the barrel in the Bosmer camp. Also, after talking to Yanabir-ja, don't move before the illusion appears.
Possible fix 2: Return to Yanabir-ja and log out, then log back in. Go place the barrel after you've logged back in.
Quest Stages
[
edit
]
Baan Dar's Boast
Finishes Quest
Journal Entry

Hidden Objective: Khajiit Hint 1

Objective: Allow Aniel to Introduce Yanabir-ja

Hidden Objective: Bosmer Hint 1

Objective: Allow Aniel to Introduce Dolirdor

Objective: Lead Aniel Away

Objective: Talk to Aniel

Objective: Collect Empty Rotmeth Barrel

Objective: Collect Dark Poison

Objective: Collect Snake Glands

Objective: Collect Poisoned Strangler Stems

Objective: Give Poisoned Strangler Stems to Yanabir-ja

Hidden Objective: Place Barrel on Offering Platform

Hidden Objective: Posture Pre-Tracker

Objective: Deliver Filled Rotmeth Barrel to the Bosmer camp

Objective: Follow Aniel

Objective: Enter the Five Finger Dance