Online:Asylum Sanctorium
The UESPWiki – Your source for The Elder Scrolls since 1995
Trial
Discoverable
Yes
Completion
Objective
Dungeon
Yes
# of Zones
1
Zone
Clockwork City
Location
Far west within the Reactor District
Instanced Dungeon
Group Size
12
Veteran Speed Run Target
Loading Screen

" 

[sic]Sotha Sil is rumored to have been the one to reverse engineer the Soul Gems in order to create Black Soul Gems. When he began this process, he used three Dunmer Saints for experiments to see if he could grant everlasting life. Three mechanical creations were made to house the souls of these saints.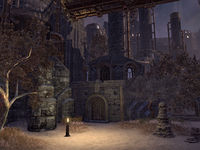 The Asylum Sanctorium is a mini trial found within the Reactor District in the Brass Fortress.
Occupants
[
edit
]
Related Quests
[
edit
]
Asylum Sanctorium Objective: End the Clockwork Saints [sic] torment in Asylum Sanctorium. / You freed the Clockwork Saints from their mechanical bodies.
Enemies
[
edit
]
Normal Enemies
[
edit
]
Dancing Spider - These assist Saint Olms when his health is low enough.
Elite Enemies
[
edit
]
("Scalding Storm", "Gusts of Steam", "Exhaustive Charges", "Storm the Heavens"; "Trial by Fire")
("Shrapnel Storm"; "Teleport Strike")
(Has "Noxious Gas" attack; "Defiling Blast";
Gallery
[
edit
]