Daggerfall:Lord K'avar
The UESPWiki – Your source for The Elder Scrolls since 1995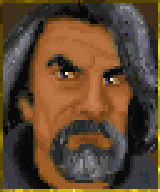 Lord K'avar is a Redguard noble of Sentinel, and also a political faction associated with the region.
K'avar is a local warlord and a veteran of the War of Betony. He received a disfiguring injury during a battle in the Glenpoint Foothills, the result of a fireball cast by a Dark Elf mercenary Nightblade. Due to his heroic service, he was chosen to command the newly formed knightly order of Sentinel, the Order of the Candle, alongside Lord Vhosek.
Lord K'avar is one of the few nobles from whom you can receive Noble quests.
Lord K'avar features prominently in a trio of Fighters Guild quests. However, these quests generate a second Lord K'avar NPC that you must interact with. Attempting to complete the quest by interacting with the Lord K'avar in Castle Sentinel will cause the game to crash.
According to the game files, Lord K'avar has more political power than any other single individual. In fact, his power is second only to the People of Sentinel.
Gallery
[
edit
]