Daggerfall:Akorithi
The UESPWiki – Your source for The Elder Scrolls since 1995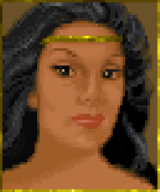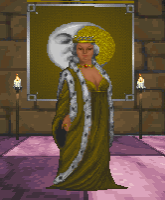 Queen Akorithi is a Redguard noble and ruler of the Kingdom of Sentinel.
Akorithi is the widow of the late King Camaron, and became ruler of the kingdom upon his death in 3E 403 at the Battle of Cryngaine Field. She can be found in the throne room of Castle Sentinel with her son, Prince Greklith.
The queen is the mother of Aubk-i, the current Queen of Daggerfall, and the Princes Greklith and Lhotun. Additionally, her firstborn child was a prince who vanished under mysterious circumstances in 3E 400.
The name of Akorithi's eldest son is randomized in Daggerfall, but is later given as Arthago in the book Night Falls on Sentinel.