Skyrim:Staff of Sheogorath
The UESPWiki – Your source for The Elder Scrolls since 1995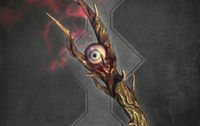 Staff of Sheogorath is a Creation that adds the eponymous Staff of Sheogorath, as well as the Fork of Horripilation weapon. It was released on October 4, 2017 for 250 CC Credits.
Official Summary
[
edit
]
Symbol of office for the Madgod Sheogorath, this grotesque staff has the power to stop opponents in their tracks. Also included is a bonus artifact, the Fork of Horripilation. (Quest "Put a Fork in it" starts by reading a "Mysterious Note" at The Retching Netch in Raven Rock.)
Overview
[
edit
]
To start the quest Put A Fork In It, travel to The Retching Netch on Solstheim, and read a mysterious note from Sheogorath, which can be found there along with the Fork of Horripilation weapon. You will need to track down two bull netches on Solstheim and kill them with the fork in order to retrieve the necessary components to craft the Staff of Sheogorath, a powerful paralysis staff.
Note that crafting the staff requires access to a Staff Enchanter, meaning the Reluctant Steward quest is a prerequisite if you don't have access to one through another Creation.
Content
[
edit
]
Books
Creatures
Quests
The recommended Staff Enchanter to use for this is the one at Myrwatch due to this also requiring two Heart Stones (that are readily available near the enchanter there.) The other staff enchanters are the one at Tel Mithryn (which first requires completion of the side quest "Reluctant Steward") and the one at Bonechill Manor.