Skyrim:Eris
The UESPWiki – Your source for The Elder Scrolls since 1995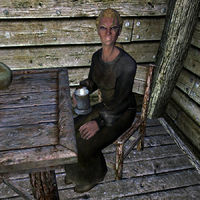 Eris is a pirate aboard the Red Wave, under the command of Safia.
Eris wears black mage robes and a pair of boots. She carries a belted tunic, a leveled piece of jewelry, a selection of common loot and gold, and an additional small amount of gold. She wields a leveled mace, which can be up to Daedric in quality and knows the following spells: Flames, Fireball, Fast Healing, and Lesser Ward.
Eris will tell you of how close she was to her father until he passed away: "My father was all the family I ever had. I felt so lost when he died. But the crew of the Red Wave's my family now." She seems fairly happy with her new life as a pirate, as she will point out that she has seen a number of interesting sights: "I've seen some truly wondrous sights since I took to the seas. I had no idea a man could die in so many ways..." She will then elaborate on the most recent object of interest she has observed: "Just yesterday, I saw a musician in the street playing a flute. It was... beautiful. I want that flute." Eris will also tell you about how her fellow crewmate, Dorian, is helping her perfect the art of fencing: "Dorian is helping me perfect my fencing, but I don't think I'll ever be as good as he is."
Related Quests
[
edit
]
Note: This NPC is one of many potential quest givers or quest targets for one or more of the radiant quests found on this page.