Skyrim:Edda
The UESPWiki – Your source for The Elder Scrolls since 1995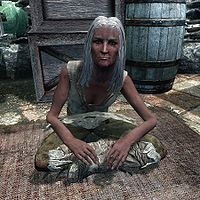 Edda is an Imperial beggar from Riften who, during the day, can be found near the market stalls, asking for septims. She sleeps in Beggar's Row between midnight and 7am.
Edda wears a beggar outfit consisting of ragged robes and ragged boots. She wields an iron dagger in combat and also carries some lower-class items and gold.
She may tell you that she is frustrated with her plights: "No one cares about us! No one! We could die and no one would ever know! They'd just throw our corpses in the canal.", "I can't take this place anymore. The trees... all the colors, but the city, so dark. Why? It makes no sense.", or "So cold, so hungry, so tired." She may also ask, "Are you scared of death? I am. I hear everything just stops... forever. It just all goes away, but you don't realize it. I don't want to die." or beg for some money: "Please, please. I need but a septim. A septim is all I ask. Is that so bad?"
Related Quests
[
edit
]
Responses
[
edit
]
As a beggar in Riften, Edda will try to get a septim or two from the townsfolk, and receive a unique response that reflects their personality:
| Citizen | Response |
| --- | --- |
| Grelka | "Go away." |
| Madesi | "Edda, you know well I barely have any coin to call my own. I'm sorry." |
| Marise Aravel | "You must be starving. Here, spend it well." |
| Brynjolf | "All right, all right. Here." |
| Aerin | "Yes, I hope this helps." |
| Mjoll the Lioness | "Yes, of course. This war is causing your woes, it's hardly your fault." |
| Valindor | "Certainly, good lady. Here." |
| Romlyn Dreth | "Are you joking? Go earn a living and stop loafing!" |
| Ungrien | "I would if I could, but I can barely make ends meet." |
| Brand-Shei | "Here, this should help." |
| Asgeir Snow-Shod | "Of course, here. Be well." |
| Nivenor | "Maybe you should look for work instead of begging for coin." |
| Bolli | "Here you are." |
| Dinya Balu | "Oh you poor thing! Come by the temple and my husband and I will keep you fed." |
| Maramal | "Edda, Edda. There's no need for this. Just come by the temple and we'll care for you." |
| Ingun Black-Briar | "Sorry, all out of coin." |
| Sibbi Black-Briar | "I've told you before, and I'll tell you again. Leave me alone." |
| Hemming Black-Briar | "Ugh, you reek. Get out of my way." |
| Bersi Honey-Hand | "Here you go, dear." |
| Drifa | "Oh, very well. Just try and clean yourself up." |
| Maven Black-Briar | "Get away from me, you filthy woman." |