Online:Vaermina's Shrine
The UESPWiki – Your source for The Elder Scrolls since 1995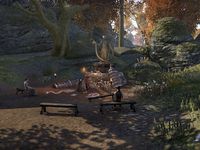 Vaermina's Shrine is a Daedric shrine in eastern Cyrodiil, southeast of Blue Road Keep and east of the Muck Valley Cavern.
Hears-the-Wind, Burila, Caledonia Lentinus, and Drinroth can be found worshipping here, which Molacar preaches at the shrine. They belong to Vaermina's cult, the Supernal Dreamers, but aren't hostile. Gasparien and two generic prisoners can be found locked inside cages, waiting to be sacrificed. The note A Promise Made can be found just behind the statue.
The shrine does not have its own map marker.