Online:Pilou Mouriou
The UESPWiki – Your source for The Elder Scrolls since 1995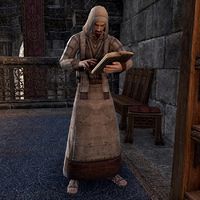 Pilou Mouriou is a Breton priest of Julianos found inside the Temple of the Divines located in the city of Wayrest.
Dialogue
[
edit
]
"Those who seek wisdom and observe the law will find peace in Julianos."
Who is Julianos?
"I'm astounded you don't know. Julianos is our great god of wisdom and logic. To worship him is to devote yourself to ever-increasing knowledge.
History, law, and philosophy are merely a few of the subjects he shepherds."
His worship sounds more like school.
"Indeed it may be. Our temples are more akin to academies than what you see here. We better ourselves and our faith through the knowledge we gain.
Those who fully devote themselves to Julianos are some of the wisest in all of Tamriel."