Online:Pieces of History
The UESPWiki – Your source for The Elder Scrolls since 1995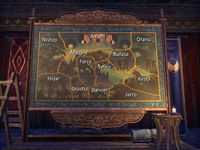 Gather pieces of the priceless Khajiit tapestry, Khajiit of the Moons, to honor its history and inspire the citizens of Senchal.
Pieces of History is awarded for finding all 12 pieces of the Khajiit of the Moons tapestry, stolen by Alfiq thieves and scattered across Southern Elsweyr. All but the first one can be found before starting the associated quest. Clues to their locations can be found in the book The Many Threads, found as part of that quest.
Relic
Clue
Location
Map
Nishzo's Tapestry Piece
—
In a cave north of Senchal
(Only appears as part of the quest)
(map)
Amaffi's Tapestry Piece
I see sly Amaffi, pretends as a priest
Black is his heart, no Height he will reach.
Inside Khenarthi's Breath Temple, south of Black Heights
(map)
Oranu's Tapestry Piece
The water is sweet so Oranu will say
Under the Moon, she will safely stay.
In the southernmost cave in Moonlit Cove
(map)
Magpie's Tapestry Piece
Look for Magpie, a thief on her guard
South to find her death, I hope it was hard.
Atop the tower on the south side of South Guard Ruins.
(map)
Bufasa's Tapestry Piece
Bufasa, always boisterous and loud
Home he will go, swaggering and proud.
Hanging on a wall on the south side of Pridehome
(map)
Seleiz's Tapestry Piece
Doom is the fate of the beautiful Seleiz
A heart of stone, quiet now 'neath the trees.
On the back of a shrine outside Doomstone Keep
(map)
Hiijar's Tapestry Piece
Happy Hiijar I will always remember
Though his bright cheerful light is only an
ember†
On the top floor of the Grand Lecture Hall in Forsaken Citadel
(map)
Grastia's Tapestry Piece
Old Grastia is now silent, alone on a hill
No wind to disturb her, no grist for the mill.
In a burned windmill in the Southern Dragonscour
(map)
Dancer's Tapestry Piece
Dancer always looks for a thrill
hides with thieves, for good or for ill.
Behind Meeh-Zaw's counter upstairs in the Senchal Outlaws Refuge‡
(map)
Farro's Tapestry Piece
Farro found a lonesome sentinel, silent and tall
A view extraordinary, but that is not all.
At the top of Marzuk's Tower on the southern shore.
(map)
Kesta's Tapestry Piece
Kesta, so secretive, but always a spy
She watches over a tower, from afar and on
high.
Attached to a tree on a spit of rock where the river splits northwest of Senchal,
overlooking the West Sentry Tower.
(map)
Jarro's Tapestry Piece
Jarro surprised me, returned to the city
Cold in the scaffolds, I give him no pity.
On a cot in the scaffolding in southern Senchal.
(map)
†
This clue is not very helpful unless you know that the Forgotten Citadel was previously known as the "House of Embers" prior to release.
‡
Dancer
herself is found nearby, notably the only one of the thieves you can encounter alive (though quite drunk).
Gallery
[
edit
]