Online:Legion Zero Charger
The UESPWiki – Your source for The Elder Scrolls since 1995
Battlemages within the perfidious Legion Zero conjure these powerful warhorses out of thin air using forbidden Daedric magic. The sight of this otherworldly charger inspires both fear and awe on the battlelines.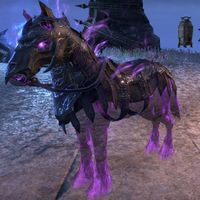 The Legion Zero Charger is a transparent purple horse with Legion Zero-themed armor. It was available for 00600600 

from September 3 to September 10, 2020, during the Imperial City Celebration Event. Its default name is "Magnate".
When summoned, it appears in a purple beam of light and leaves a purple Daedric summoning circle imprinted on the ground; this circle has the Daedric letter 'O' in its center, and quickly fades away. When walking on certain surfaces, this mount will leave behind purple hoofprints with tendrils coming off them.
It is identical in appearance to the Legion Zero Destrier, save for the different colors and textures on its body and armor. The leather portions of its barding are grey-blue instead of red, and instead of having black fur and grey eyes, its body is a translucent purple. Its eyes glow purple, and purple light emanates off the back of its neck, flank and ankles.
Gallery
[
edit
]