Online:Findun
The UESPWiki – Your source for The Elder Scrolls since 1995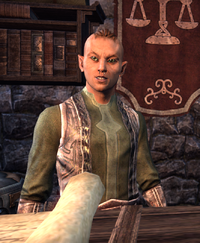 Findun is a Bosmer who operates his eponymous goods store in Seyda Neen. Marise Rothrano assists him in running the place.
Related Quests
[
edit
]
Quest-Related Events
[
edit
]
During Breaking Through the Fog, you come across an Argonian named Cherishes-Water who may have information about the shipwreck that happened the night before. She asks you to retrieve a bucket of "Findun's Special Blend" before she'll tell you anything about the wreck. The blend costs 30 gold, and you can buy it from Findun during this part of the quest. After you find the note in the tree hollow, you can give the passphrase to Findun.
Dialogue
[
edit
]
"Red Mountain's bubbling and boiling like an overstuffed pot of fermented meat juice! I sure hope it settles down before something terrible happens."
"I hear that the House Guard broke up a band of slavers operating on one of the nearby islands. I'm glad for that, but the slavers will probably be back in business before you know it."
"I only recently arrived and I'm still getting used to this strange land. Did you know they mine insect eggs for food here? Or what about those murderers that get to kill people just so long as they have an official piece of paper? It's crazy!"
When you buy the Special Blend:
"Is that for Cherishes-Water? Poor dear. Her scales are very sensitive, you know."
When you're looking for who doused the light house fire:
The ending of the words is ALMSIVI.
"Oh, that's from the Dark Elf scriptures, isn't it? Enigmatic and beautiful.
I've been trying to catch up on my reading, but I've been so busy, busy, busy."