Online:Cherishes-Water
The UESPWiki – Your source for The Elder Scrolls since 1995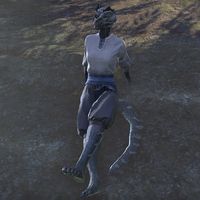 Cherishes-Water is an Argonian who can be found in Seyda Neen.
Related Quests
[
edit
]
Quest-Related Events
[
edit
]
"Do you mind? Your dirty foot coverings are contaminating my pond."
Were you here the night of the shipwreck? Did you see anyone near the lighthouse that night?
"So direct, you are. It makes my tongue wither and the answers dry up in my mouth.
Go and bother someone else with your questions."
You have two options from here:
[Intimidate] The deputy governor can ask you instead:
"No! There's no need to involve the governor's deputy. Or the house guard. When they start breathing down my neck, my scales shrivel right up!
I did notice someone near the lighthouse that night."
Are you looking for some gold to answer my question?
"Now you insult me? I'll have you know I can take care of myself!
Since you mentioned it, I have noticed that my favorite pong has become somewhat stagnant. I bet if we had some of Findun's Special Blend, my throat would moisten right back up."
Findun's Special Blend?
"Findun collects it from a secret location, where the sea meets the swamp in perfect harmony. Contains just enough salt to nourish my scales without drying them.
You can buy it from him or fill a bucket yourself. Then we can talk."
Fine. I'll get you a bucket of Findun's Special Blend.
You can find the special blend in the water just to the east of the Silt Strider. For reference, the Silt Strider is facing the blend. Dump the water into Cherishes-Water's pond:
Cherishes-Water: "Ah! That feels much better!"
"Now that's the proper way to ask a question!
As a matter of fact, I did notice someone near the lighthouse that night."
Regardless of what choice you make:
Who did you see near the lighthouse that night?
"You keep asking the wrong question. I did not see anyone that night—I felt them! They made ripples in the water. I felt them stop by the tree that overlooks my pond. Then they moved off, toward the lighthouse.
Look to the tree, moist one."
And you never bothered to check out the tree?
"I prefer my waters to remain still. Calm. Prying causes ripples, and ripples lead to more dry questions."
Once you have questioned her, she wishes to be be left alone.
"Would you be so kind as to move along? You're disrupting the current."