Online:Elsoreth
The UESPWiki – Your source for The Elder Scrolls since 1995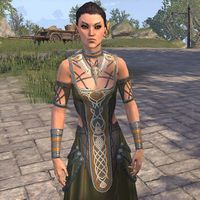 Elsoreth is a Bosmer who can initially be found in Rethelmir's House in Russafeld. She is Rethelmir's wife and Celan's mother.
Related Quests
[
edit
]
Old Wounds: Hunt down a ghostly killer in Russafeld.
Quest-Related Events
[
edit
]
Old Wounds
[
edit
]
You can first talk to her while investigating the recent murders in Russafeld. She will will want her family to be left alone:
"Who are you? Are you with the Divine Prosecution? My husband warned me you might come poking around."
Why did he think we were coming?
"Halimorion hated us. He abused our children and tried to drive us off. Of course the High Elves would suspect us. And our son, Celan. He—.
Nevermind. Please, just go. We don't want any trouble. We just want to live here in peace!"

Are you sure there's nothing else you want to tell me?

"Yes, I'm sure.
Look, you're free to look around. Just try to … we're simple Mer, and we don't have much. Halimorion may have been a cruel bigot, but none of us would ever murder him for it. I swear."'

[Persuade] If your son is involved he could be in danger. I only want to help him.

"Well, I'm not supposed to say this, but Celan has been going on about the Ghost of the Green for weeks now. You know boys and their masked heroes. I didn't think there was any harm in it.
But now …."
Talking to her again, she will only plead:
"Please, have a care with our things. We don't have much."
After you find Celan's diary, she'll ask you to leave immediately:
"I've said enough already. If you're finished here, please, just leave us in peace. And if you see my boy, tell him to come home."
At Lorne's request, you return to her at the conclusion of the investigation to explain her son's death to her and her husband. As you approach her, you can overhear her desperate conversation with a member of the Divine Prosecution, Venayen:
Elsoreth: "He's my son! I deserve to know what is going on!"
Venayen: "I don't … I am sorry, but the Prosecution is still examining his body. We will release his remains to you as soon as we can."
Break the news to the distraught mother:
"You! I remember you. Please, you have to tell me what's going on. My son never came home, and now they tell me he's ….
They won't even let me see him! What happened to my boy?"
I'm sorry. We couldn't save Celan, but we brought his killer, the Ghost of the Green, to justice.
"Y'ffre's mercy … How could you—why didn't you save him? Damn this place! Damn the Prosecution!
Here, take this thing. I found it under Celan's bed. I never want to see it again! I never want to see you again! I … gods help me."
This completes the quest and you receive your "reward", the Ghost's Skullcap. Afterwards, Elsoreth and her husband leave Russafeld.