Online:Centurion Andrin
The UESPWiki – Your source for The Elder Scrolls since 1995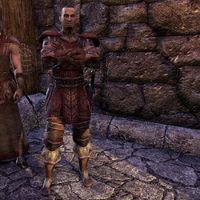 Centurion Andrin is a Nord member of the Ebonheart Pact. He can be found in front of the local Fighters guildhall in Riften.
Related Quests
[
edit
]
Quest-Related Events
[
edit
]
Pulled Under
[
edit
]
"Are you a Jarl, General, or a member of the gods-cursed Tribunal? No? Then shove off!"
There are zombies in Riften, Centurion. The Worm Cult is among us.
"This again? Look, the cult is gone. I was dispatched to the city with all of five soldiers. The rest marched off after the giant. I don't have the manpower to investigate rumors."
I can investigate, then.
Returning to him after investigating:
The Worm Cult was here. I've pushed them out of Riften, but they left with a shard of Wuuthrad.
"A shard of Wuuthrad. Here? You must be joking. The Worm Cult is a danger to us all. Though, from the look on your face, I can see you're not. We'll double patrols with the five men we have. In the meantime, thank you for running them out of town."
After the quest:
"I'll set the few troops I have to search out any remaining cultists. If any of those Worms remain behind, we'll find them."
A Walk Above the Clouds
[
edit
]
Stomping Sinmur
[
edit
]
After the quest:
"The Worm Cult is finished here. With Sinmur dead, their threat to the Rift is over."
Ambient Dialogue
[
edit
]
Centurion Andrin has other, unsubtitled dialogue, directed towards Sergeant Krathon and Sethisa Herethi, who are standing at attention not too far away in front of the guildhall in Riften.
"This is war! There's no time for romance!"
"I want this post running smooth and by the numbers!"
"If I catch you two kissing on post again, I'll send you both to Cyrodiil!"
"No more dereliction of duty."
"The citizens think we're doing nothing."
"The situation is bad enough here. I don't need you making it worse."
"It's all double shifts from now on!"
"The people out there depend on us."
"How many times do I have to reprimand you? I can't have you two sneaking off to ... dally."