Online:Captain Viveka
The UESPWiki – Your source for The Elder Scrolls since 1995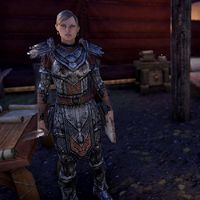 Captain Viveka is a Nord officer of the Ebonheart Pact found at her camp located south of Wisplight Glen.
Related Quests
[
edit
]
Quest-Related Events
[
edit
]
A Giant in Smokefrost Peaks
[
edit
]
In His Wake
[
edit
]
Pulled Under
[
edit
]
"I already owe you. But I'm hearing rumors. They need to be investigated."
What would you have me do?
"My cousin, on my pa's side. Her father's missing, and the family says Yiri saw what happened. Problem is, he went missing during the attack. But he wasn't anywhere near the west wall."
What did she say happened?
"She swears something pulled him into the canals. Poor thing's shocked out of her gourd. As you can see, I'm a little occupied. Get Yiri talking. Tell the Pact's commander, Centurion Andrin, what you learn."

Speaking to her afterwards:
"(?)"
What was the attack like?
"Terrifying. If we hadn't already been on alert, I don't know what would have happened."
What did it do?
"Sinmur knocked down the wall before we could drive him away. Some of the Mages focused their fire on his head, and that seemed to … annoy him. I can't believe he didn't go down."
He was shrugging off spells, then?
"He was. The energy that swirled around him. The host of Worm Cultists, the moans of the dead. I hope never to see its like again."
Those She Devours
[
edit
]
After the quest:
"Necromancers who lust for immortality can transform themselves into liches. Vile spells and sacrifices are involved. They gain tremendous power but lose their souls. More than this, I don't care to know."
Stomping Sinmur
[
edit
]
After the quest:
"Thanks to you, the Worm Cult has been defeated and Sinmur has been returned to the grave."